Salchichon Tomato Pasta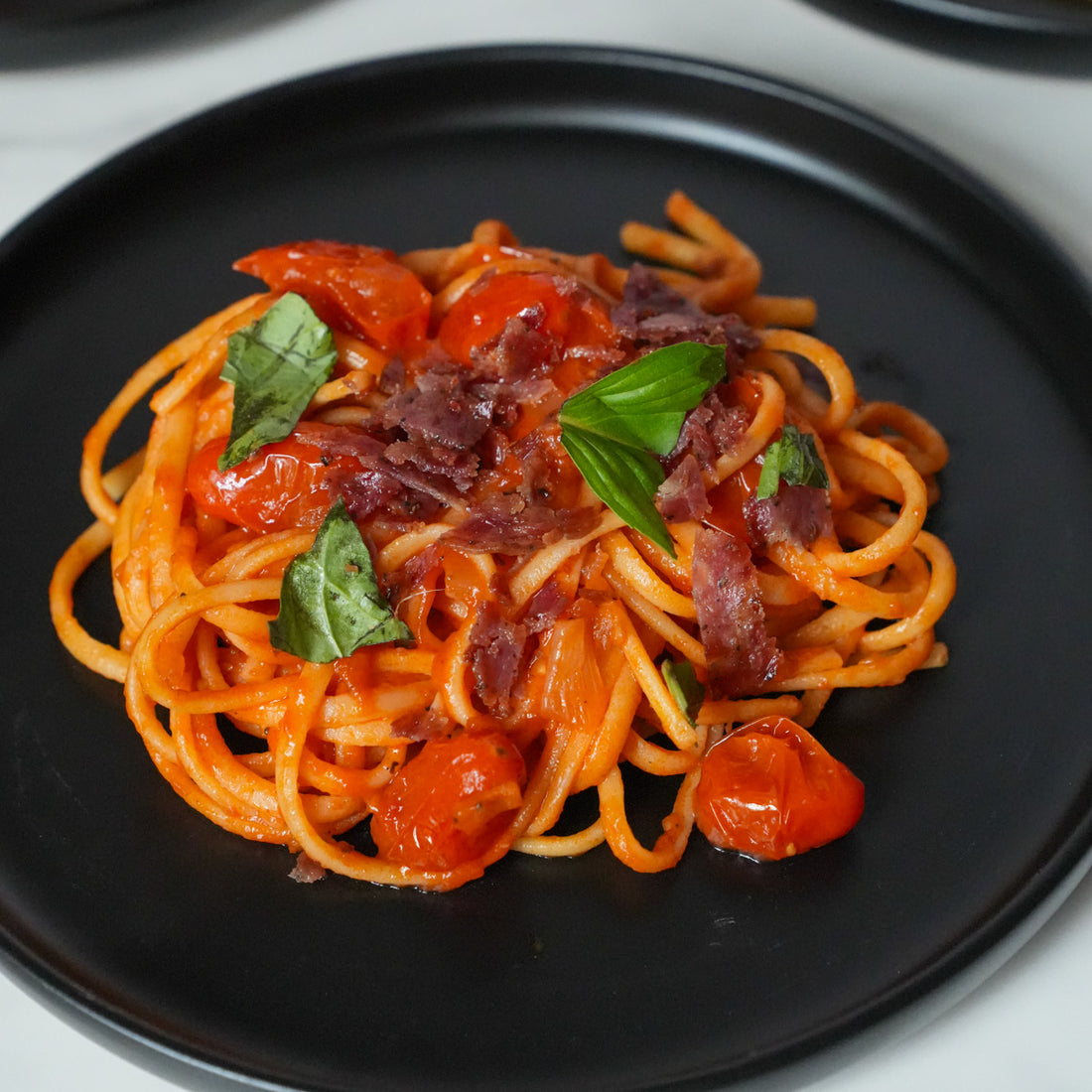 Salchichon Tomato Pasta
This salchichon Spaghetti Recipe is a flavorful and hearty pasta dish that combines classic Italian spaghetti with slices or diced salchichon, creating a unique and delicious flavor profile. It is a fusion of traditional Italian cuisine with the distinct taste of salchichon, which adds a savory and slightly spicy element to the dish.
Ingredients 
1 pound spaghetti
100g salchichon, sliced
1 medium onion, finely chopped
2-3 garlic cloves, minced
1 cup cherry tomatoes
1 cup tomato sauce
Fresh basil leaves, chopped
Salt and pepper to taste
Grated Parmesan cheese
Preparation 
Cook the spaghetti: Bring a large pot of salted water to a boil. Add the spaghetti and cook according to the package instructions until al dente. Drain the pasta and set aside. Reserve about 1/2 cup of the pasta cooking water.
Cook the salchichon: In a large skillet or saucepan, heat a tablespoon of olive oil over medium heat. Add the salchichon in a single layer, and cook for 2-3 minutes on each side. Remove and set aside on a plate lined with paper towel.
Sauté the onions and garlic: Add the chopped onion and cook for about 2-3 minutes until it becomes translucent. Stir in the minced garlic and cook for an additional 30 seconds, being careful not to burn it.
Add the salchichon and cherry tomatoes: Add the sliced or diced salchichon to the skillet with the onions and garlic. Cook for about 2-3 minutes until the salchichon starts to release its flavor. Then, add the halved cherry tomatoes and cook for another 2 minutes until they soften slightly.
Pour in the tomato sauce: Pour the tomato sauce into the skillet with the sautéed ingredients. Mix everything well and bring the sauce to a simmer. Let it cook for about 5 minutes, allowing the flavors to meld together.
Season the sauce: Add salt and pepper to taste. Keep in mind that the salchichon can be quite salty, so adjust the seasoning accordingly. If the sauce becomes too thick, you can add some of the reserved pasta cooking water to reach your desired consistency.
Combine the pasta and sauce: Add the cooked spaghetti to the skillet with the sauce. Toss everything together, making sure the pasta is evenly coated with the sauce and the salchichon mixture is distributed throughout.
Garnish and serve: Sprinkle freshly chopped basil leaves over the top of the pasta. Optionally, you can also serve with grated Parmesan cheese for some extra flavor.