Smoky Orzo Risotto with Chorizo & Loin Roast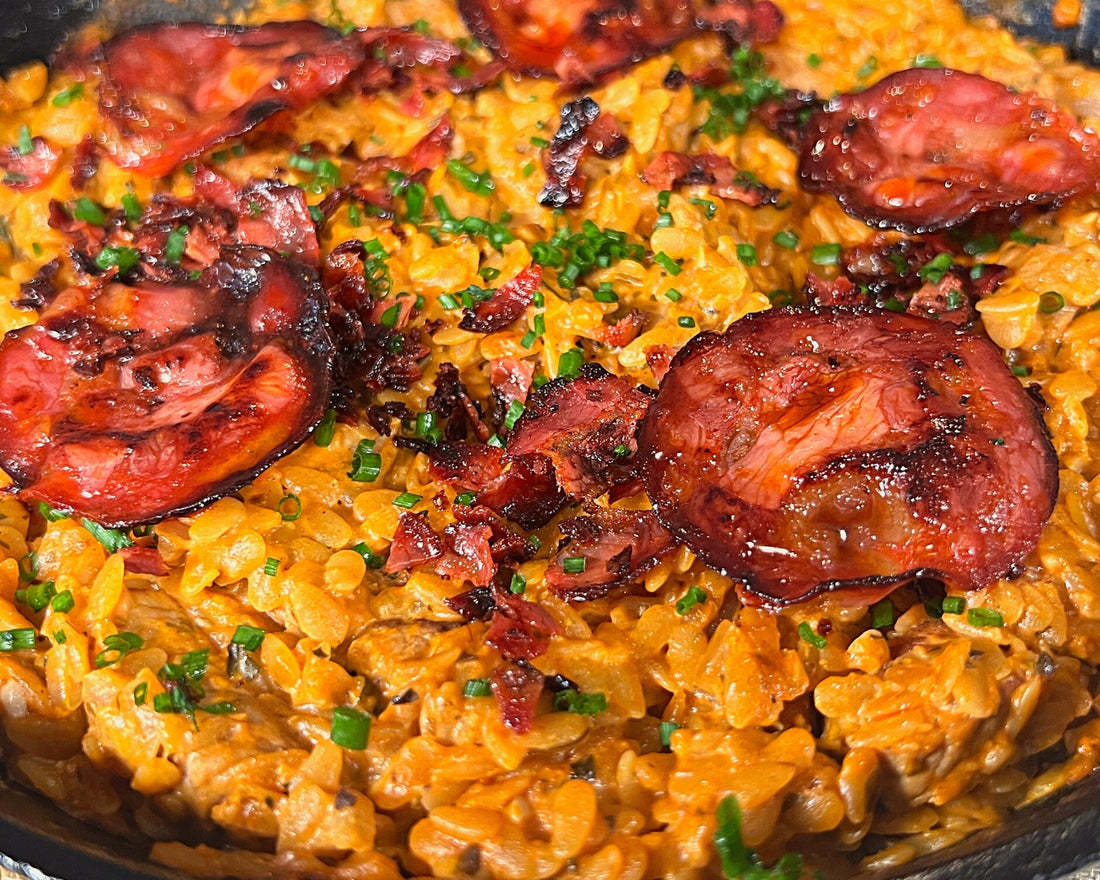 An orzo-based risotto comes together even faster than the traditional rice version. This Spain-ified version is laced with loads of paprika and a hefty dollop of cream cheese to bring out the best in the dry-cured Chorizo and juicy seared Loin Roast. 
Serves: 4
Time: 1 hr
Smoky Orzo Risotto with Chorizo & Loin Roast
Ingredients
2 oz. pack Campo Grande Chorizo

1 17-24 oz. Campo Grande Loin Roast, cut into bite-size pieces 

½ Tablespoon garlic powder

½ Tablespoon dried oregano 

½ Tablespoon sweet paprika

1 Tablespoon smoked paprika

1 onion, diced 

2 cloves garlic, finely chopped 

1 Tablespoon tomato paste

1 liter (4 ¼ cups) beef or chicken broth 

100g (4 oz.) cream cheese 

300g  (11 oz.) dried orzo 

4 Tablespoons grated parmesan

1 teaspoon minced chives 
Preparation  
Heat a large satué pan over medium heat and lightly cook the slices of chorizo on both sides, being careful not to burn them. The idea is to cook them just enough to get the flavorful fat to render out into the pan. Remove the chorizo from the pan and set aside. 

Add Loin Roast to the pan, along with the dried spices. 

Cook until Loin Roast is golden brown and add in the onion. 

Once the onion is soft and translucent, add the garlic and tomato paste and cook for a few minutes. 

Add the orzo to the pan and stir to combine. 

Pour in the broth cup by cup, letting the orzo absorb almost all the liquid before adding in another. The orzo should bubble up a little bit each time you add the broth. Do your best to keep the liquid from drying up completely before adding each additional cup. Stir frequently to keep the orzo from sticking. 

When the orzo is fully cooked to your desired texture, add in the cream cheese and mix well. Note that the orzo package will indicate a time, but it's best to taste as you cook. Cook less for more of an al dente bite and longer for a softer mouthfeel. 

Remove from heat and dish out into four portions. Place the chorizo slices on top and sprinkle with parmesan and chives.

¡Buen provecho!