What the Heck Is Vaca Vieja Beef?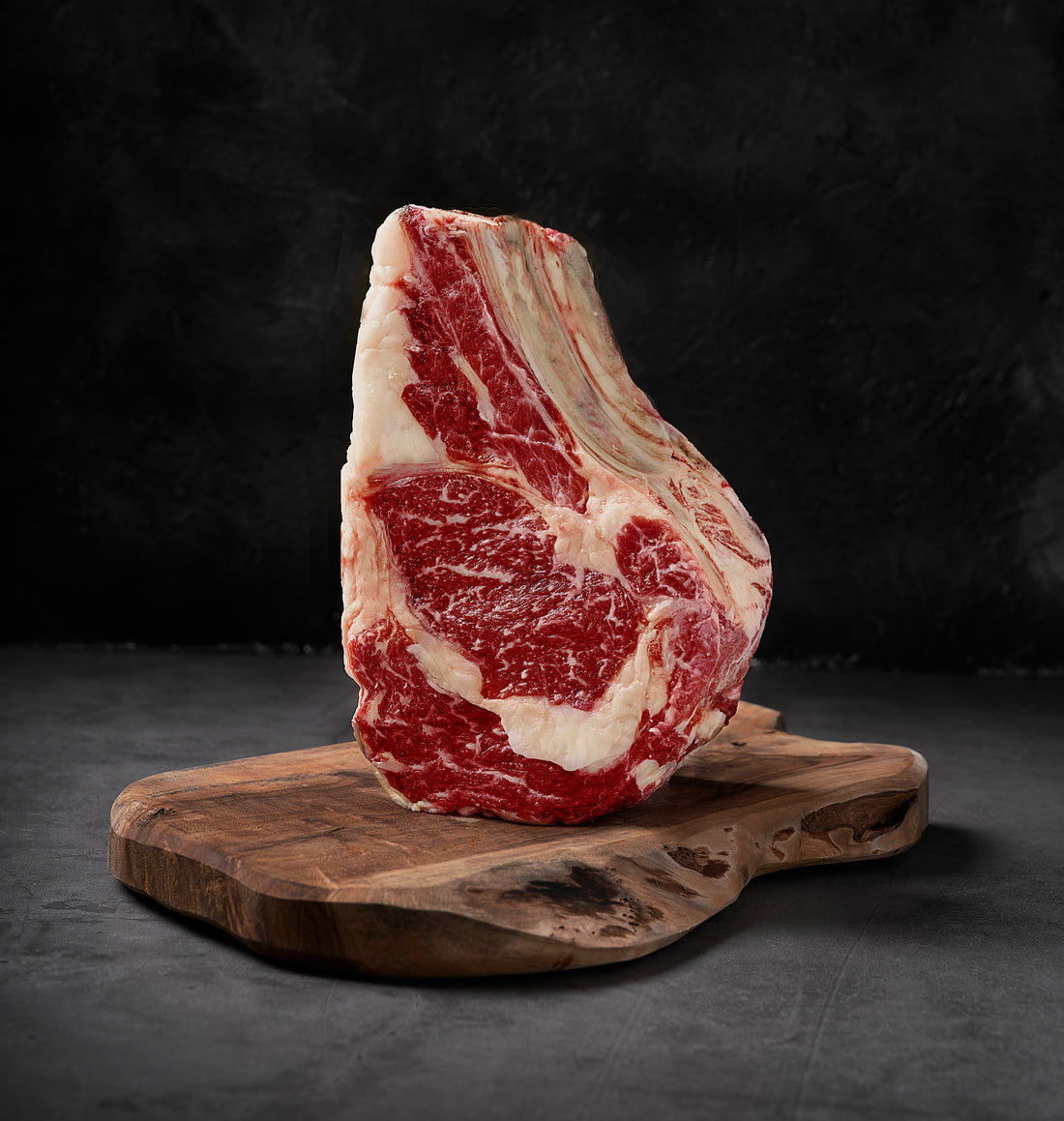 Imagine there are two raw steaks in front of you. One is reddish pink with white fat, while the other is reddish brown with yellow fat. Which would you choose? 

If you went with option one, we'll forgive you, though you'd be missing out. Our brains are hard-wired to reach for brighter, fresher-looking meat. But just as the world's finest hams and prized vintage wines take on a rusty tinge with age, so does the world's most flavorful beef. Meet Vaca Vieja. 
Literally "old cow" in Spanish, this style of steak goes beyond dry-aging, hitting mind-boggling umami heights through maturation on the hoof: We're talking 100 percent grass-fed beef from cows that live up to 12 years.
 
What Is Vaca Vieja? 
Vaca Vieja is to regular beef what beef is to veal: meatier, bolder, and more complex. Mature cows live long enough for intramuscular fat to thoroughly, evenly penetrate the meat, making it juicier and more flavorful than standard beef. And because Campo Grande Vaca Vieja is grass-fed and finished, that fat takes on a pleasantly earthy flavor all its own.
Aging is the final step in the Vaca Vieja process. Our artisans use a unique method called wet-aging in which they chill the beef in sealed cryovac bags at temperatures around 25ºF to 35ºF. No oxygen is able to enter the bag during this period. The enzymes in the beef tenderize the meat and deepen its beefy intensity; it's almost like it's marinating in its own delicious juices. Translation? The only thing required of you, dear cook, is to crank the heat and sprinkle on a that crunchy salt. All the flavor is already within. 
We've chosen the absolute king of Spanish beef to showcase the finest of Vaca Vieja: the chuletón. The spiritual home of the Spanish prime rib and Vaca Vieja is the Basque region in the north of the Iberian Peninsula. There, it's an integral part of the sagardotegi (cider house) dining ritual. Between swigs of boozy cider poured straight from the barrel, diners wolf down Flintstonian-size steaks known as "chuletones" fresh off the grill. It's the beloved main course on a menu that invariably also includes salt cod omelets and smoky Idiazabal cheese. Chuletón is the be-all and end-all of Basque meat cuisine. 
Where Does Vaca Vieja Originate?
Vaca Vieja comes from female cows ages five and up, and while many cultures around the world eat mature beef, only in Spain is there a deep-rooted culinary culture devoted to its production, especially in Basque country. 
Before the era of factory farms—which popularized bland meat meant for mass consumption—beef tasted like, well, beef. Our Vaca Vieja is reclaiming that heritage, that original flavor, one steak at a time. You can even see the difference in the fat, which has a yellowish hue thanks to a vegetarian diet rich in natural beta-carotene.
One bite of your chuletón and you'll realize that Vaca Vieja is, quite literally, a whole different animal. 


Who Makes Campo Grande Vaca Vieja?  


When selecting Vaca Vieja prime ribs for Campo Grande, we seek out only specimens with off-the-charts marbling scores as well as ultra-tender meat that's free of chewy bits and imperfections. 
All of our Vaca Vieja is pasture-raised and butchered in the Spanish style at a cooperative in Tasmania where workers are paid equitably and cows live long, healthy lives. The co-op practices rotational grazing so that the land is never depleted. We are the exclusive vendor of their exceptional beef in the United States.


Why Choose Vaca Vieja? 

When you choose Campo Grande Vaca Vieja, you're voting against factory farms and for the preservation of the planet. Remember, this is upcycled beef: It comes from cows that, instead of being slaughtered young or retired, get to be enjoyed at their most flavorful prime. 
This is beef at its most nutritious prime as well. Grass-fed beef often has a lower fat content than the grain-fed stuff, which is better for heart health. It also tends to have fewer calories per serving and more intense flavor than regular beef, which means you need less of it to feel satisfied. 


The Bottom Line

Beyond its superior flavor, Vaca Vieja won't weigh on your conscience: These cows are free-range and live up to five times as long as industrial cattle. As Michael Pollan famously said, you are what you eat eats, in this case, a grain-free, antibiotic-free diet that's 100% grass and plants. ¡Viva la vaca vieja! 
Ready to try the most umami-packed steak on earth? Click here to get a Vaca Vieja Prime Rib Chuletón delivered straight to your door.