Baked rice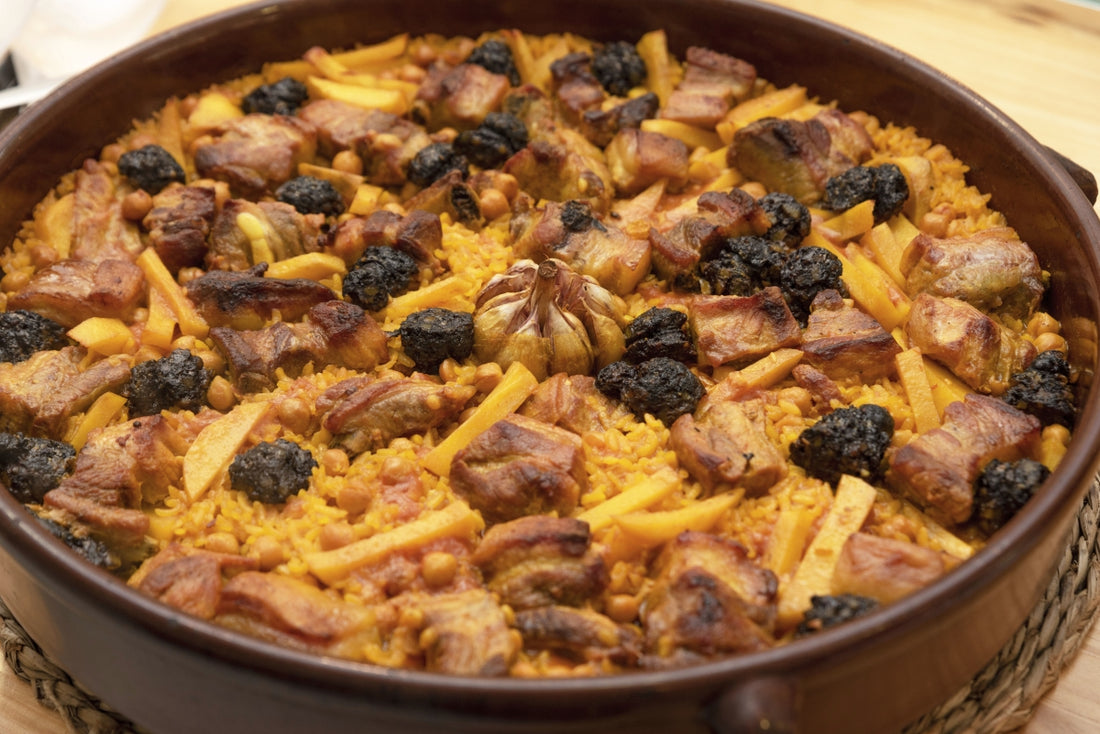 Baked rice is a typical recipe of Spanish cuisine, specifically from the Valencian community. It consists of rice baked with different ingredients whose origin comes from using leftovers from the stew or stew-like meat, vegetables, cheese, or tomato sauce. Would you like to learn how to make this delicious dish? This is a very easy, nutritious, and delicious preparation that you can adapt to your tastes and seasonal products. In addition, it has many health benefits as it provides carbohydrates, proteins, fiber, vitamins, and minerals.
This is a very popular and diverse dish because each region or family gives it its own personal touch. It is usually prepared in an earthenware casserole, which gives it a toasted and crunchy aspect. This article will show you how to make this traditional recipe, what garnishes go well with it, and why you should include it in your diet. Don't miss it!
Ingredients
To make baked rice, you will need the following ingredients:
4 cups cooked white rice

2 cups tomato sauce

1 cup grated cheese

250 g ground beef (can be beef, pork or chicken)

1 onion, chopped

2 cloves of garlic, chopped

1 grated carrot

1 red bell pepper cut into small pieces

Salt, pepper, oregano, and parsley to taste

Olive oil
Preparation
The procedure is as follows:
Preheat the oven to 180°C and apply olive oil in a high-temperature dish.

In a frying pan, sauté the onion and garlic in some oil until tender.

Add the minced meat and season to taste. Cook until browned, stirring occasionally.

Add the carrot and peppers and cook for a few more minutes until tender.

Stir in the tomato sauce and oregano and mix well. Simmer for about 10 minutes, until slightly thickened.

Mix the rice with the grated cheese and chopped parsley in a large bowl.

Spread a layer of rice in the greased bowl, covering the entire bottom.

Spread a meat and vegetable mixture layer over the rice, covering it all.

Repeat with another layer of rice and meat, ending with a layer of rice.

If desired, sprinkle more grated cheese on top.

Bake for about 20 minutes or until the cheese is melted and golden brown.

Let stand for a few minutes before serving.
This is a complete dish that you can accompany with a green salad of lettuce, tomato, onion, and olives, a fresh and light option that contrasts with the intense flavor of the rice. On the other hand, if you want to add color and nutrients to the dish, you can combine it with sautéed vegetables and choose the ones you like the most, such as zucchini, eggplant, peppers, carrots, or mushrooms, with which you can also prepare a cream.
Potatoes in their different versions are also a good option as a garnish. If you love them, you can prepare them fried, baked with spices, or as mashed potatoes. In addition, you can prepare a yogurt sauce or aioli, which contrasts flavor and texture with the rice.
You can also change the ingredients according to what you have at home or what you prefer. For example, you can use brown rice instead of white rice, add mushrooms, spinach, eggplant, or zucchini to the sauce, use mozzarella or Parmesan cheese instead of grated cheese, or even replace the meat with tofu or beans.
Advantages
Baked rice has many health benefits, as it is a source of energy, protein, and fiber to keep you satiated and helps regulate intestinal transit. In addition, rice also contains B vitamins essential for the functioning of the nervous system and metabolism.
Tomato sauce is rich in lycopene, an antioxidant that helps protect cells from oxidative damage and prevents cardiovascular diseases and certain types of cancer. Cheese, meanwhile, provides calcium and phosphorus, which are important for healthy bones and teeth.
Meat provides iron, zinc, and vitamin B12, which are necessary to form red blood cells and maintain the immune system. Vegetables are a good source of vitamins A, C, and K, which have anti-inflammatory, healing, and immune functions.
In summary, baked rice is a delicious, easy-to-prepare, and very healthy dish you can enjoy on any occasion. We encourage you to try it and enrich your recipe with your own taste. Do not hesitate to share this preparation with your friends and family so that they can also enjoy baked rice and its properties. See you next time!