Chicken and shrimp casserole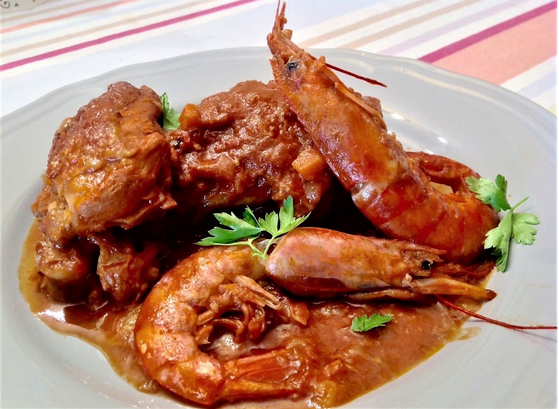 When preparing a dish, people usually choose a single animal protein, whether it is fish, chicken, meat, etc. In this way, it is possible to concentrate specifically on exalting the qualities of that element, achieving an exquisite feast of juiciness, flavor, and aroma.
However, if you visit Catalonia, you will surely notice how Catalan cuisine refuses to follow this custom. In the different restaurants of the region, it will be possible to find "Mar i Muntanya" meals, in which the mix of typical ingredients from the mountains of Catalonia together with marine elements stand out. Among the best-known dishes of this type are: sea and mountain rice, chicken and lobster casserole, and, obviously, chicken and shrimp casserole.
While many avoid making recipes with such combinations, Catalans have learned to effectively complement two or more completely different types of protein. Thanks to this, it is possible to taste exquisite varieties that share Catalonia's flavor and its extensive culture. Below you will learn how to prepare a delicious chicken and shrimp dish that will surely surprise more than one guest.
You will notice that it is easier than you think, and with a little effort, you will have a real delicacy in your hands to delight you.
How to prepare chicken and shrimp casserole?
This is a recipe that, besides being easy to make, offers an incredible variety of texture and flavor. Additionally, since it is a very low-fat meat, it could be considered a healthy preparation that will please people of all ages.
Ingredients: (For approximately 4 people)
1 chicken

300 grams of shrimp

1 onion

1 glass of cognac

2 glasses of fish stock

5 spoonfuls of crushed tomato

Extra virgin olive oil

Salt
Minced:
1 or 2 slices of bread from the day before

12 peeled almonds

2 cloves of garlic
Preparation:
Clean the chicken by removing excess fat and cutting it into quarters to separate the breasts and thighs. You should also clean or defrost the shrimp if you need to buy them fresh.

Add a good splash of olive oil to the pan and wait until it is hot. While it reaches the desired temperature, season the chicken with salt and pepper.

When the oil has heated up, it is time to brown the chicken, so add it until it browns on all sides. When done, remove the pieces and set them aside.

Using the same oil, proceed to fry the shrimp on both sides. When they are ready, remove them from the pan.

Chop the onion into julienne strips and sauté in the same pan. Add the crushed tomato and lower the heat when it softens so everything cooks. The tomato will reduce until you get a sofrito.

Pour a drizzle of oil into a small frying pan. Fry the bread slice, garlic cloves, and almonds.

When they are ready, remove them and add everything to a mortar. Crush the ingredients and add the brandy until everything is well-mixed.

If the tomato and onion sauce is ready, it is time to add the chicken and the minced meat to the casserole. It is necessary to cook over high heat for 3 minutes to evaporate the cognac alcohol and lower the heat.

Cover the chicken pieces very well with the fish stock and cover the casserole. Let it cook for half an hour.

After this time, taste the preparation. If it needs more salt, correct it.

Add the shrimp and let everything cook for about 5 more minutes before turning off the heat. Put the lid back on and let the steam inside the pan finish cooking everything.

After a few minutes, it will be ready to serve and enjoy.
Tips:
Once upon a time, the favorite side dish to accompany chicken with shrimp was fried or baked potatoes. However, nowadays, many people prefer to serve it with bread, maybe for the speed or because it is possible to take advantage of every last drop of sauce.
If you are not a fan of cognac or do not have it at home, it is possible to use white wine for the preparation. On the other hand, some combine cognac with brandy to provide an extra touch of flavor.
Finally, you should know that this recipe can be prepared with prawns instead of shrimp. The only difference is that the prawns must be cooked a little longer, as shrimps are usually softer than prawns. Otherwise, it is just a matter of taste.
With these tips and following the recipe step by step, you will be able to enjoy a dish that, in spite of having a great flavor, is relatively simple and quick to prepare. Enjoy!