Chicken with almond and saffron sauce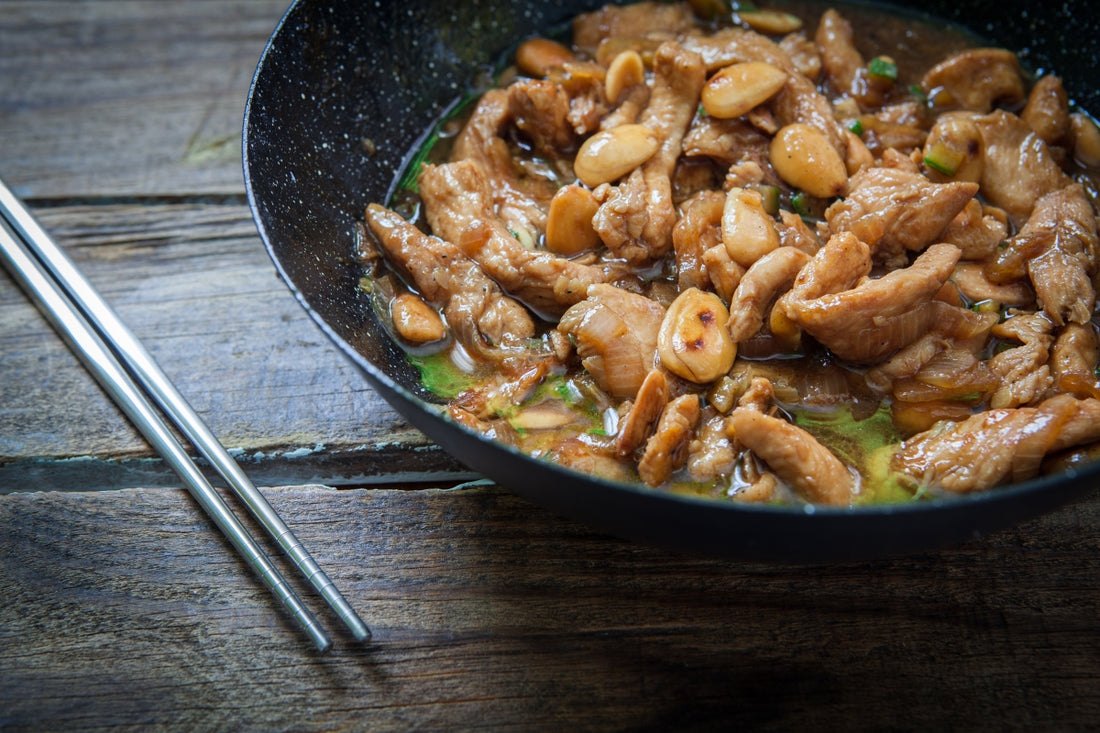 Chicken is the most consumed white meat in the world. It has the particularity of being tolerated by all kinds of people and being liked by almost everyone. Its texture and flavor make it one of the most versatile meats in the kitchen, both for the different ways it can be cooked and for its combination with an infinite number of ingredients.
Benefits of eating chicken
Because of its high-quality proteins, low calories, and low-fat content, chicken is meat recommended in all types of diets, whether for weight loss or to take care of some aspects of health. It is only necessary to be careful with the skin, which is rich in fat and cholesterol.
Chicken meat provides 9 essential amino acids and minerals such as selenium (which acts as an antioxidant), phosphorus (essential for strengthening bones and teeth), and magnesium (which strengthens muscles). It is also rich in B vitamins. These, among many other functions, help to metabolize fats and sugars more efficiently and support the immune system.
Uses of almonds and saffron in cooking
Almonds, used as ingredients in cooking, give flavor and texture to savory dishes, although they are most commonly used in baking recipes. They can be used differently: sliced, diced, ground, whole, raw, or roasted.
Their use also provides many healthy properties. To begin with, almonds are considered nutritional pills since they are one of the nuts that contain the most antioxidants and unsaturated fats (the kind that prevents cholesterol from accumulating in the arteries), which is why they are considered heart-healthy.
When eaten, they provide extra energy and cover a large part of our daily vitamin and mineral needs. For example, they are rich in calcium, phosphorus, magnesium, and iron. But, undoubtedly, their most outstanding property is their antioxidant properties. It not only combats the premature aging of cells but also acts as an anti-inflammatory, alleviating the symptoms of metabolic and autoimmune diseases.
At the same time, because they have a low glycemic index, they are well tolerated by people with diabetes.
As for saffron, it is an indispensable spice in most rice dishes and stews, although it is also used in fish and meat dishes, sauces, and desserts. This spice adds color to recipes and enhances their flavors. Saffron's flavor combines herbs and vegetables such as tomato, garlic, or lemon.
Recent studies suggest that eating saffron every day can be effective in treating the symptoms of mild depression. And because it has antioxidant properties, it can also protect organs from the harmful effects of toxic substances and improve brain function in people with Alzheimer's disease. It even helps reduce the symptoms of premenstrual syndrome.
How to prepare chicken with almond and saffron sauce
Chicken with almond sauce is a classic dish when you run out of ideas and don't know what to cook. In addition, one of its advantages is that it can be prepared in advance and reserved from one day to the next or frozen.
We will give it an original touch on this occasion by adding saffron.
Ingredients:
1 medium chicken in pieces

2 tablespoons raw almonds

5 unpeeled garlic cloves

3 carrots

1 large onion

1 glass of brandy or white wine

1 bay leaf

Parsley

1 teaspoon saffron

Salt and pepper

200 ml of water

Extra virgin olive oil
Preparation:
Season the chicken pieces with salt and pepper to taste.

In a casserole, heat the oil and fry the meat in turns, turning it, until it is golden brown. Do not worry if it is not entirely cooked inside because it will cook thoroughly during the cooking process. Set aside.

Wash and peel the carrots. Cut them into slices about half a centimeter thick.

Peel the onion and chop it as small as possible.

In the same oil used to fry the chicken, sauté the carrot and onion until the onion is almost golden brown. Add the chicken and stir.

Pour the chosen liqueur and let it cook for a couple of minutes so that the alcohol evaporates.

Add the bay leaf and cover the preparation with half of the water. Cook over low-medium heat for about 30 minutes.

Meanwhile, crush the peeled garlic cloves, almonds, parsley, and saffron in a mortar and pestle. When it has the consistency of a paste, add the rest of the water, stir, and add to the casserole.

Let everything cook over low heat for about 15 minutes or until the chicken is tender.

Season with salt and serve.