Codfish Riojan Style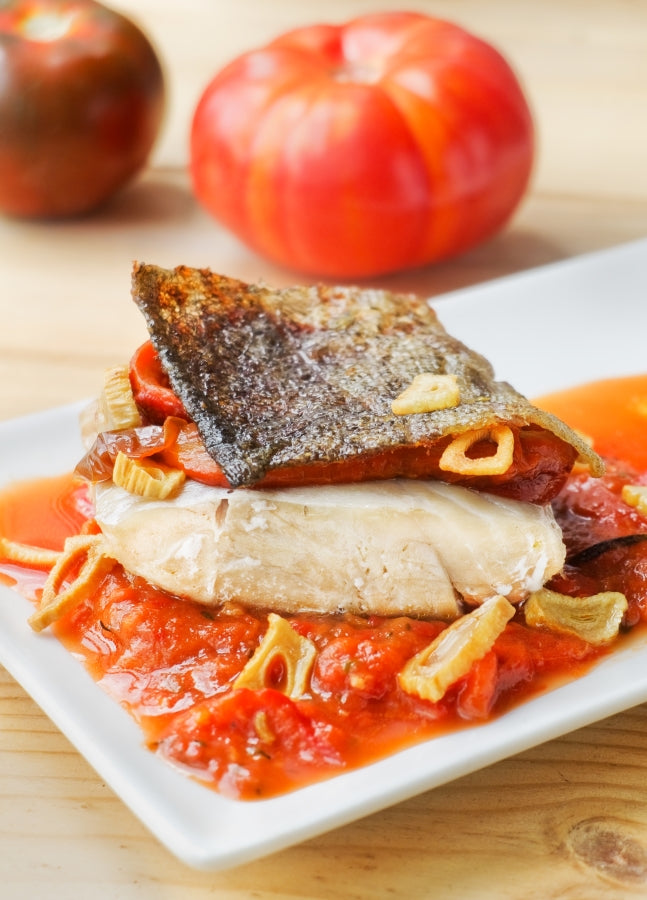 Do you like cod, and what about Rioja cuisine? If you answer yes to both questions, you are certainly in luck because here you will find a recipe for cod Rioja style that you will love. This is a traditional Spanish dish that combines the flavors of fish with vegetables and wine. It is a delight for the palate and a treat for the health.
Cod Rioja style is a very easy recipe that does not require much time or ingredients. You only need desalted cod, some vegetables and seasonings, and wine. With these elements, you can prepare a delicious and nutritious dish, which you can serve with boiled or fried potatoes or some bread to dip in the sauce.
Its origins date back to the Middle Ages, when cod was one of the few fish that could be eaten in the peninsula's interior, thanks to its preservation in salt. The La Rioja monasteries of Valvanera, Nájera, San Millán, and Cañas were the first to prepare this stew, which became popular among the people as time went by.
Ingredients
The exact proportions for a four-person recipe are as follows:
4 cod loins (salted or desalted)

4 roasted red peppers

2 purple (or white) onions

1 bay leaf

3 garlic cloves

120 ml of white or red wine

700 g homemade fried tomato

Extra virgin olive oil

Salt (to taste of each house)

1 teaspoon of sweet paprika

Wheat flour for breading
Preparation
To prepare this exquisite dish, you must follow the following steps:
If you opt for salted cod, you must desalinate it. Place the cod fillets in a deep container and cover them with water to do this. Store them in the refrigerator and change the water every 6 hours for 48 hours. Then drain the cod and dry it very well.

Once desalted, season the cod loins and dredge them in flour, shaking off the excess. Heat a little olive oil in a frying pan and fry until golden brown on both sides over high heat, being careful not to break when turning. Take them out and set them aside, letting the excess oil drain.

Peel and chop the garlic and onion. Put the pan on the stove with a little of the oil you used to fry the cod, and then add the chopped garlic and onion and fry until fragrant. Season with some salt and cook for about 10 minutes or until the onions are transparent.

Add the sweet bell pepper and mix well. Add the wine and let the alcohol evaporate. Add the homemade fried tomatoes and bay leaves and cook the sauce over medium heat for about 15 minutes, stirring occasionally.

Wash the peppers and place them in a baking dish. Then, you should moisten them with oil and season them. Once done, bake the peppers at 190°C for 35 to 40 minutes. Let them cool, peel them, and cut them into strips.

Place the cod loins on top of the sauce and skin side up, ensuring they do not pile up on top of each other. Cover the pan and cook over low heat for about 5 to 15 minutes or until the cod is cooked, stirring the sauce.

Once cooked, add roasted bell pepper strips on top of the cod and serve hot.
The preparation can be accompanied by different garnishes, according to taste. Some of the most popular are baked potatoes, green salad, and white rice, which are good options to balance the dish in terms of flavor and texture and provide essential micronutrients.
This is a simple way to turn a cod into a visit to La Rioja, but there are different variations, depending on your preference. If you want to try it, you can add your personal touch to impress your family and friends and enjoy its flavor and benefits together with them.
Advantages
Cod is a white fish, low in fat and rich in proteins, vitamins, and minerals. It also contains omega 3, which helps prevent cardiovascular diseases and improve cholesterol. Vegetables provide fiber, vitamins, antioxidants, and other essential nutrients for the body. And wine, either red or white, in moderation, has beneficial effects on circulation and blood pressure.
As you can see, Rioja-style cod is a complete and balanced dish that you can include in your diet without any problems. In addition, it is a way to enjoy the most authentic and traditional Spanish cuisine, which has a great variety and gastronomic richness. If you liked this recipe, do not hesitate to share it with your friends and family, as it will allow you to stand out and receive important compliments.