Gazpachuelo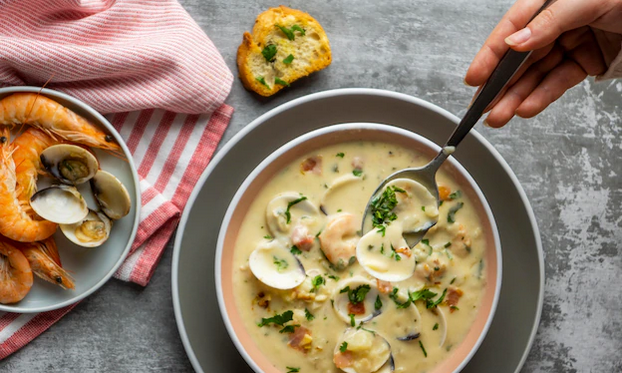 Do you want to learn how to prepare a delicious gazpachuelo recipe and discover all its benefits? Well, you are in luck, because in this article we will show you how to make this star dish of Málaga, which is typical of fishermen and perfect for cold days and to enjoy the best Spanish cuisine.
Generally speaking, gazpacho is a creamy soup of humble origin made with fish, potatoes, mayonnaise, and garlic, served hot and accompanied with toast, clams, or prawns, the latter ingredients providing an exclusive character in many restaurants. This is a very easy recipe to make, which can be adapted to everyone's taste and has many health benefits.
Its name is because it contains three of the four basic ingredients of gazpacho: bread, oil, and water. In some versions, it is seasoned with vinegar or lemon and is accompanied by hard-boiled egg whites, boiled potatoes, and toasted bread.
Want to know more? Read on and learn how to make gazpachuelo step by step and why it is so good for you.
Ingredients
For a preparation intended for four people, gather the following ingredients:
1 kg of white fish (hake, monkfish, cod, etc.)

4 medium potatoes

4 cloves of garlic

2 eggs

Extra virgin olive oil

Mayonnaise to taste

Salt

Water

Optional: clams, shrimps and toast
Preparation
The gazpachuelo preparation method consists of the following steps:
The first thing to do is to clean the fish, remove the skin and bones, and cut it into small pieces to set aside.

Then, we peel the potatoes and cut them into medium pieces to reserve them.

Peel the garlic and chop finely to keep.

Heat a little olive oil in a large saucepan and start sautéing the garlic over medium-low heat, preventing it from burning.

Add the potatoes and fish, add salt to taste, and then cover the ingredients with water. Cook over medium-high heat for about 20 minutes or until the potatoes are tender or soft.

Meanwhile, in a separate bowl, beat the eggs with a bit of salt and add a few tablespoons of mayonnaise. Mix these three ingredients well until a homogeneous cream is obtained.

When the potatoes and fish are cooked, lower the heat to the minimum and slowly add the previously prepared mixture, stirring constantly so that the creamy texture does not stick or cut.

If we want to add clams or shrimps, we can add them now and wait for them to open and cook for a few more minutes.

After the previous step, we can serve the gazpachuelo very hot, with toast or to taste.
Some garnishes that can be served with gazpachuelo are goat cheese, dark chocolate, assorted fruits, charcuterie, avocado and salmon salad, fried fish, breaded or stuffed eggplant, poached egg with tuna and ham, pasta salad, seafood salad, melon with ham or paella.
A light refreshing drink such as water with lemon, white wine, beer, orange juice, or green tea is recommended to counteract the intense and fatty taste of the gazpachuelo. Regarding dessert, a sweet and creamy option such as egg flan, custard, rice pudding, Catalan cream, cheesecake or vanilla or chocolate ice cream can be chosen to favor the balance of the palate after the soup.
Advantages
Gazpachuelo is a very nutritious and complete recipe providing quality proteins, carbohydrates, healthy fats, vitamins, minerals, and antioxidants. Some of its nutritional and general health benefits are:
Thanks to its antibiotic and anti-inflammatory properties, it helps fight colds and boosts the immune system.

It gives us energy and a feeling of satiety due to its high protein content and the potato is a rich source of starch and fiber.

It takes care of our heart and brain due to the properties of fish containing fatty acids such as Omega-3 that improve blood circulation and prevent cardiovascular and neurological diseases.

Hydrates and purifies the body since it is a dish with a high water content that favors the elimination of toxins and regulates intestinal transit.

Protects our skin and hair due to the function of the mayonnaise ingredients based on egg and olive oil, rich in proteins, vitamins A, E, and D and essential fatty acids.
As you can see, gazpachuelo is a very complete and healthy dish, and at the same time, very tasty. So don't wait any longer and prepare it at home. You will surely be surprised by its flavor and its pleasant texture. And if you like this recipe, don't hesitate to share it with your friends and family. Enjoy!