How to Grill the Perfect Pork Presa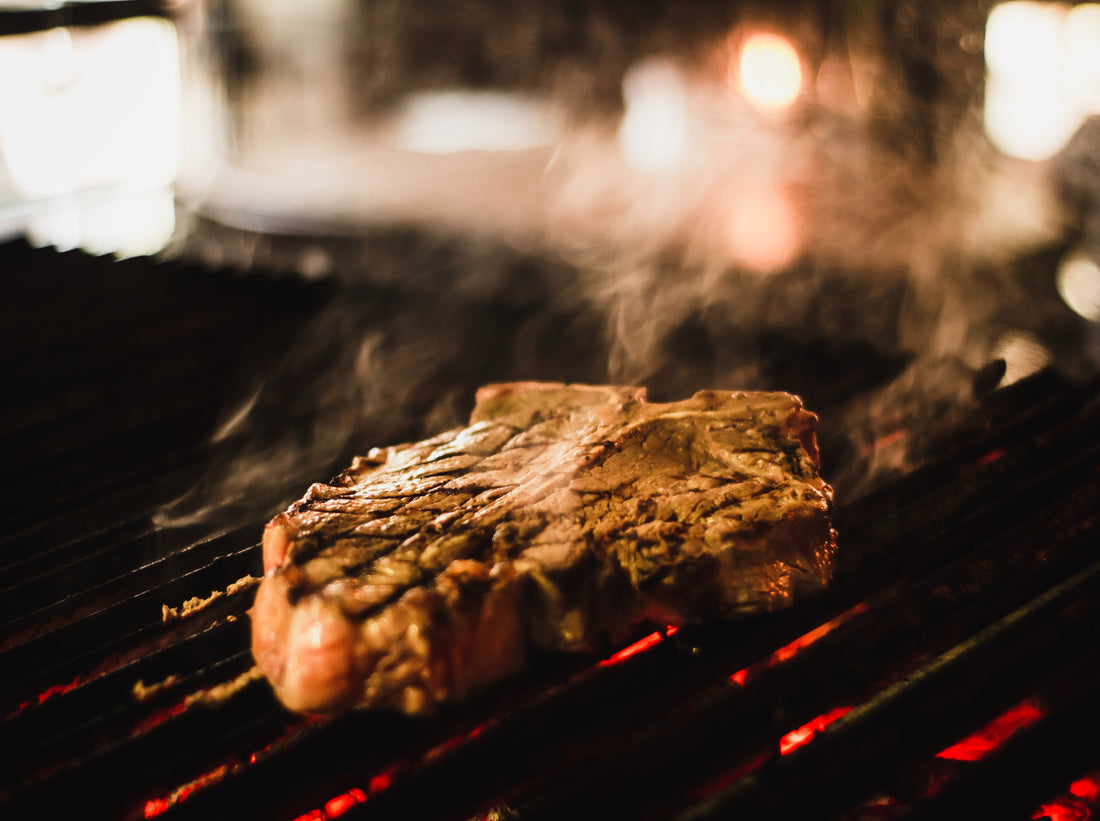 There are all sorts of ways to prepare Ibérico Presa. In the past it was used to make sausages in Spain, but today you'll find it seared, fried, sous vide, made into tartare, baked, grilled, and smoked. Here we're offering up one of our favorite recipes for grilled Presa. 
If you don't know much about Presa, it's a cut that's distinguished by its incredible marbling, intramuscular fat, and incomparable flavor. It has a tender and fine texture that practically melts in your mouth when cooked properly (especially when grilled!). It's also a prized cut, as there are only two pieces of Presa that can be extracted from each Ibérico pig, each only weighing between 17 and  21 ounces. 
Want more info on presa? Check out our Ultimate Guide: How to Cook Presa Ibérica. 
Recipe for Grilled Pork Presa
To grill Presa, it's best to slice it into fillets of the same thickness to help it cook quickly and evenly. In this recipe we're serving grilled Presa filets with a creamy mustard sauce, sautéed veggies, and a fresh green salad. 
Ingredients
1 21-28 oz. Campo Grande Presa

1 green pepper, julienned 

4 piquillo peppers, julienned 

1 onion, finely chopped

2 potatoes

6 mushrooms, quartered 

Iceberg lettuce or lettuce of your choice

20 grams mustard

1/2 cup heavy cream

1 Tablespoon soy sauce

Extra-virgin olive oil

Salt

Freshly ground black pepper

Chopped parsley, fresh or dried
Preparation
Using a sharp knife, cut the Presa into filets of equal size and thickness. You can also ask your local butcher to do this for you. 

Trim any excess fat depending on your personal preference. Just remember that Ibérico fat is tasty and highly nutritional, so don't remove too much! 

Let the meat come to room temperature about 2 hours before you're ready to grill to ensure even cooking. 
Drizzle oli in a pan and sear the Presa over high heat for 1 minute on each side. Remove from heat and set the Presa aside. 
Using the same pan, mix together cream and mustard and cook over low heat. Sprinkle in the parsley and stir to keep from burning. Once combined and thickened, remove from heat and set aside. 
Boil the potatoes with salt water. This will likely take about 20-30 minutes depending on the size of the potatoes. Once cooked, remove from the pot and cut into quarters. 
Preheat the grill and grease the grates. Place the Presa fillets on the grill and cover the grill. The meat should not need more than 5 minutes. Be sure to flip halfway through cooking and season with salt and pepper. 
In another pan or on a griddle, combine potatoes, peppers, onions, mushrooms, and a little bit of oil. Cook for a few minutes. 
Toss the lettuce with soy sauce and 3 Tablespoons of olive oil. 
Serve the Presa with the potatoes and veggies and spoon the mustard cream sauce over the top. Accompany with the green salad. ¡Buen provecho!
A Few Tips for Grilling Iberian Presa 
You can also grill the entire cut and then cut it into thin steaks. Be aware that the cooking time will be longer and you will need to put the grill on medium heat and definitely use the lid to maintain the temperature. Make sure that the Presa does not dry out during the cooking process.
A popular option for grilled Presa is to smoke the meat after grilling. It consists of using wood (preferably cherry, walnut, or apple wood), to give the grilled meat a smoky flavor. All you need to do is soak the wood (or use pellets, if your grill can accommodate them) and heat the grill to high heat. The wood will not burn when wet, but will give off a pleasant smoke that will subtly permeate the meat as it finishes cooking.