Iberian feather, meaning and elaboration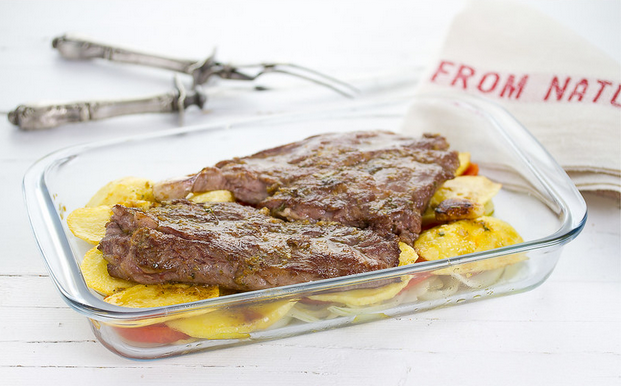 The Iberian pluma or feather is, according to experts, the most elegant and delicate cut of Iberian pork. This is the most select and gourmet cut of all, as only one feather can be extracted from each pig. What does Iberian feather mean? What is the best way to cook it?
What is the Iberian feather?
"From the pig you can eat everything", is a popular Spanish saying that means that all parts of this animal are suitable for consumption. And from the Iberian pig even more! Iberian pigs have a large number of cuts, some unknown until recently, such as feather, prey and lizard.
What makes Iberian meat so characteristic is its unique flavor and incomparable texture. The vast majority of the cuts, including the pluma, have a distinct and perfect balance between fat and lean meat. This makes the meat tender, juicy, soft, but not so fatty.
On the other hand, Iberian feather provides great health benefits. It has properties similar to those of olive oil; it has a good supply of protein, few calories, high levels of vitamins and minerals, as well as antioxidants. This is due to the breeding style of the iberian pigs, as well as the acorn-based diet. In addition, this diet not only makes Iberian meat ideal for a balanced diet, but also makes its flavor intense and delicious.
The feather is triangular in shape, elongated and is extracted from the back of the animal's back. It is often confused with the Iberian prey, as they are very close to each other. However, the feather is smaller and longer, weighing only about 100 grams, and only one feather can be extracted from each Iberian pig! The prey, on the other hand, can weigh between 500 and 600 grams, it's more rounded in shape and two are extracted from each animal.
Because the feather is so small and only one can be extracted from each pig, it is the most select cut that exists. This makes it quite difficult to find.
The best ways to prepare Iberian pluma
The Iberian pluma is a small but very versatile cut. It can be prepared in a wide variety of ways. Like other Iberian cuts, the pluma is usually grilled or broiled, and you won't need much to give the dish a unique flavor!
To prepare the Iberian pluma, just add a little coarse or flaked salt and it will be enough. The meat already has everything you need, but you can accompany it with a wide variety of sauces such as barbecue, blue cheese, mushrooms, mustard and honey, beer, among others.
This delicate cut of Iberian pork is also recommended for grilling or baking and can also be stewed in a pot. But the most surprising thing is that the feather can be eaten raw and does not entail a health risk. This is because Iberian pigs follow strict quality controls.
To eat raw Iberian feather, you will need to freeze it three days before consumption and then thaw it in the refrigerator. This way you will avoid cross contamination with other foods. And how do you make raw Iberian pluma? It's very simple! You can prepare it as a tartar or carpaccio.
If you want to make tartar, you should cut the feather into very fine pieces, once it is at room temperature; dress it with citrus or mustard sauces, olive oil or honey and mix it with a variety of ingredients such as beet, avocado or other vegetables of your choice.
In the case of carpaccio, you will need to cut the Iberian feather finely, with the help of a knife or a special machine. It is important that the slices are thin, like the ham. These slices are dressed with a vinaigrette of olive oil, vinegar, lemon, aromatic herbs and sprinkled with cheese flakes.
Iberian feather recipe
Ingredients
100 grams of Iberian feather.

350 grams of rice.

Three carrots.

Extra virgin olive oil.

Coarse salt.

Freshly ground black pepper.

Dried parsley.
Elaboration
Remove the meat from the refrigerator to allow it to come to room temperature.

Peel and cut the carrots into slices, about the same thickness, and steam them.

Prepare the rice of your choice.

Heat the griddle, grill or frying pan. If you use the frying pan, just add a drizzle of extra virgin olive oil.

Heat over high heat and, when the utensil is hot, place the meat on it.

Only after turning the Iberian feather, add the salt flakes or coarse salt and freshly ground black pepper.

Each side of the pluma should be done for approximately two minutes.

Remove from the heat and serve with the rice and carrots. You can substitute the carrots with boiled potatoes, broccoli or any other vegetable.

Sprinkle a little parsley on top.