Pork Chops with Wine Sauce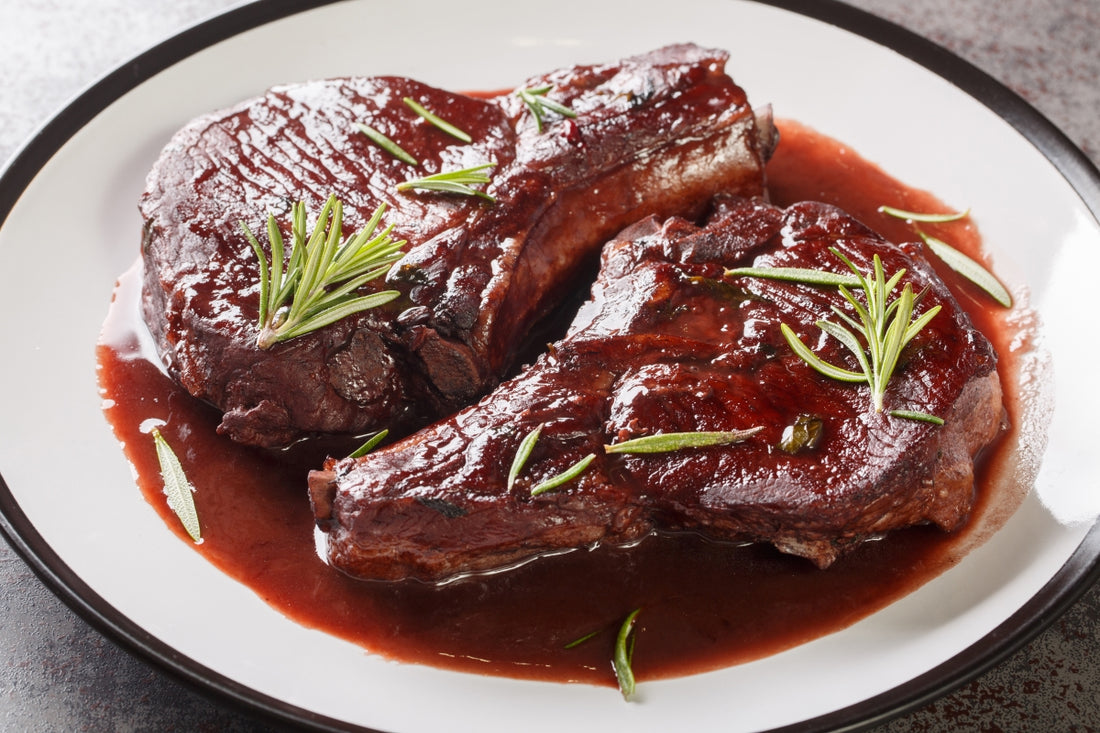 Pork chops are a blank canvas for bold flavors, spices, and sauces. They make for a quick weeknight meal and are elegant enough to serve at a dinner party or festive holiday meal. They're also affordable, full of flavor, and easy to prepare. 
The pork chop is taken from the loin area of the pig. The chops can come from the loin, rib, sirloin, shoulder, or top area. Each area will have some variation of more or less meat, and some with bones and without. 
Here we're getting into the details of how to prepare pork chops with a savory wine sauce. Read on for more tips. 
Learn How to Prepare Pork Chops with Wine
We recommend asking the butcher to clean the chops to remove any excess fat or tissue. You can also have the bones removed entirely to make it easier to eat, especially for kiddos. Just keep in mind that removing the bone may affect your cook time. 
Serves: 4
Ingredients
8 pork chops 

1 medium onion, finely chopped 

3 cloves garlic, finely chopped

1 green bell pepper, finely chopped

1 tomato, finely chopped 

2 Tablespoons flour

1/2 cup red wine

1/2 cup white wine

Coarse salt

Freshly ground black pepper

1 teaspoon of parsley

1/2 cup water, or meat or vegetable stock

2 Tablespoons sugar

Extra-virgin olive oil
Preparation 
The first thing you should do is remove the chops from the refrigerator so they can come to room temperature before cooking. 
Season the chops with salt and pepper to taste and set aside.
Heat olive oil in a large frying pan. You want to make sure your pan is large enough to fit the chops. 
Brown and cook the pork chops fully to your liking and set aside. We recommend placing them in a dish, covered with aluminum foil, and putting them in the oven to keep them warm.
Add the bell pepper, onion, tomato, and garlic to the same pan and stir until onions are translucent and all the vegetables are soft.
Sprinkle in the flour and stir to combine. 
In a separate bowl mix together red wine, white wine, meat stock, and sugar.
Add the mixture to the pan with the vegetables and simmer for about 15 minutes. The sauce should thicken, and the alcohol in the wine should evaporate.
Once cooked, you can either serve the sauce as is or blend it with an immersion blender or regular blender for a silky smooth texture. 
Serve the chops with the wine sauce on top. ¡Buen provecho!
Recommendations for Preparing Chops in Wine Sauce
When choosing the best pork chops at the butcher or supermarket, choose those with a pale pink color, a little marbling, and white fat. Avoid any chops that have yellowed fat. 
There are a few different ways to prepare the pork chops. You can cook the chops while simultaneously preparing the sauce in a separate pan; this way, the chops will be hot when it's time to serve and eat. If you cook the chops first as noted in the recipe, we definitely don't recommend reheating them in the microwave. It can dry them out and give them an unappetizing rubbery texture. 
Another tasty option is to reduce the cook time on the chops and then add them to the wine sauce mixture as it cooks. This way, the chops acquire the flavor of the wine sauce as they finish cooking. Just keep in mind you will need a large frying pan or pot to fit all the liquid, vegetables, and pork chops. A dutch oven is a great option for this. 
As for the cook time, it all depends on the cut's thickness. It can vary from 3-5 minutes per side. At the end of the day, it all depends on how you like your pork cooked. 
Garnishes and Sides for Pork Chops with Wine Sauce
This dish goes exceptionally well with a number of sides. One of our favorites is homemade mashed potatoes—their smooth texture blends well with the chops and mingles with the wine sauce. You can also serve it with fried or boiled potatoes, or even a simple scoop of white rice.
To lighten things up, add some veggies to the mix, like steamed broccoli, carrots, or asparagus. And of course, good crusty bread is a must for mopping up those savory wine sauces.