Pork Ribs Canarian Style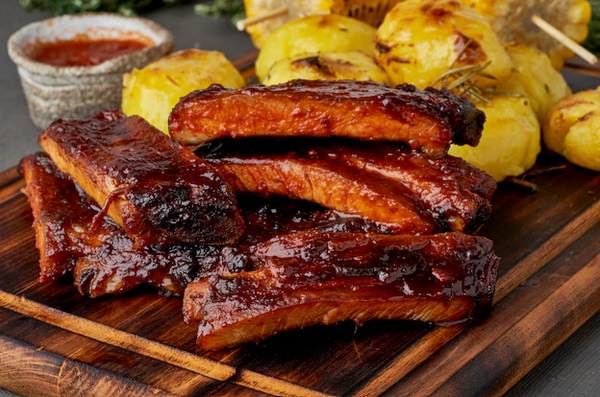 If you like pork ribs, you should know there is a way to prepare them with delicious sauces and an unbeatable flavor in the purest Canarian style. Below, we will tell you how to make a traditional recipe from the islands that will please your palate and your guests. In addition, you will learn about the benefits of eating pork, as long as you do it in moderation and as part of a balanced diet.
As its name suggests, pork ribs in the Canarian style are a typical dish of Canarian cuisine, usually served as a second course or tapa. It is a dish of pork ribs marinated with spices, garlic, vinegar, and salt, simmered in a casserole with water, white wine, bay leaf, and thyme. The result is a tender and juicy meat that easily comes off the bone and is accompanied by a thick and delicious sauce made from cooking broth and a mixture of almonds, garlic, parsley, and fried bread.
Ingredients
To make this recipe, you will need the following ingredients:
1 kg pork ribs cut into small pieces

4 cloves of garlic

1 teaspoon sweet paprika

1 teaspoon ground cumin

1 teaspoon of dried oregano leaves 

Salt and pepper for seasoning

4 tablespoons white wine vinegar

2 bay leaves

2 sprigs of fresh thyme

250 ml dry white wine

500 ml of water

Extra virgin olive oil

50 g of raw peeled almonds

2 slices of stale bread

A handful of chopped fresh parsley
Preparation
The steps for the preparation of this recipe are as follows:
The first step is to prepare the marinade for the ribs. To do this, crush two peeled garlic cloves in a mortar with the paprika, cumin, oregano, salt, and pepper. Add vinegar and mix well. Place the ribs in a large bowl and pour the marinade over them. Stir well so all the pieces are coated and impregnated with the flavors. Cover the bowl with cling film and marinate in the refrigerator for at least two hours or overnight.

The second step is to cook the ribs. To do this, heat a little oil in a large pan and brown the ribs on both sides without the marinade. If necessary, Do this in batches so they don't brown in batches. Place the browned ribs on a plate. Add the water, white wine, bay leaves, and thyme to the same saucepan. Bring to a boil, and once it has boiled, lower the heat. Add the ribs to the sauce and cover the pot. Simmer for an hour and a half to two hours until the meat is tender.

The third step is to prepare the sauce. To do so, toast the almonds in a frying pan without oil until golden brown and set aside. In the same frying pan, fry the bread slices until they are crispy and keep. Then, crush the remaining two peeled garlic cloves with salt in a mortar and pestle. Add the almonds and continue grinding until a thick mixture is obtained. Add the fried bread and grind some more. Finally, add the chopped parsley and mix all the ingredients well.

The fourth step is to complete the recipe. To do this, remove the ribs from the pot and place them on a plate. Filter the cooking water, put it in a pot on the stove, and let it reduce until it thickens. Add the crushed almonds and mix well. Taste the sauce and adjust the salt if necessary.
Now you have to serve the pork chops Canarian style with the sauce on top. You can accompany them with wrinkled potatoes, sautéed vegetables, or a fresh salad. This way, you can enjoy this star dish of the Canarian cuisine, which will transport you to the islands in every bite.
Benefits
Did you know that pork has many health benefits? Although it is usually associated with a high fat and cholesterol content, the truth is that lean pork, like ribs, has interesting nutritional values. Some of those that can be mentioned are:
It is a source of high-quality protein, which contributes to maintaining and developing muscle mass.

It provides iron, which helps prevent anemia and promotes oxygen transport in the blood.

Contains B vitamins, especially B1, B6, and B12, which are involved in energy metabolism and the functioning of the nervous system.

It is rich in zinc, a mineral that strengthens the immune system and promotes wound healing.
Of course, to take advantage of all these benefits, it is important to consume pork in moderation and as part of a varied and balanced diet. Choose leaner cuts, such as sirloin, tenderloin or chops, and avoid fattier cuts, such as bacon or chorizo. It is also advisable to cook pork using healthy methods such as grilling, roasting, or stewing and avoid fried or breaded dishes. This way, you can enjoy the flavor and texture of this meat without affecting your health.
Enjoy this recipe for pork ribs, Canarian style, and try it at home. If you do, do not hesitate to share your impressions and continue learning more traditional recipes of Spanish cuisine.