Santiago cake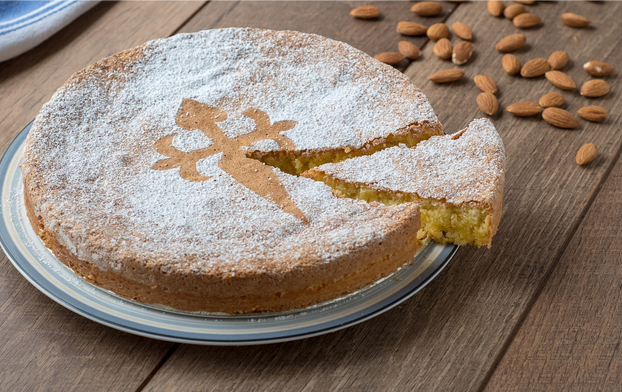 Santiago cake is a delicious dessert typical of Galician cuisine, made with almonds, eggs, and sugar. Its origins date back to the 16th century when pilgrims arriving in Santiago de Compostela tasted this sweet temptation. Today, the cake of Santiago symbolizes Spanish cuisine and is a delight for the palate.
The recipe for Santiago cake is straightforward and can be prepared at home with just a few ingredients. The most important thing is to use good quality almonds, preferably raw and peeled, giving it an impeccable flavor and texture. You also need sugar, eggs, lemon zest, cinnamon, and butter to grease the mold. Some variations include aniseed powder or liqueur, but different from the traditional recipe.
Ingredients
The specific measurements of the preparation elements are as follows:
250 g raw ground almonds marcona variety or 250 g skinless almonds (in case you are going to make the flour yourself)

5 large eggs

250 g of white sugar

The zest of 1/2 lemon peel (only the yellow part)

1/2 small spoonful of ground cinnamon (about 5 g)

1 small knob of butter to grease the baking pan

1/2 shot of herbal brandy or the liqueur you like the most

50 g of caster sugar or powdered sugar to decorate the cake

Our recommendation for a thin cake is a 28 cm springform pan.
Preparation
The steps to be followed for the preparation of this popular dessert are as follows:
If you are making your own almond flour, start by toasting the almonds in a saucepan over medium heat, stirring constantly so they don't burn. When they are golden brown, remove them from the heat and let them cool.

Grind the almonds in a blender or food processor to a fine powder. Do not grind them too much, or they will become oily.

Preheat the oven to 175°C (350°F) on high and low.

Mix the sugar, ground almonds, cinnamon, and lemon zest.

Add the eggs one at a time, beating well after each addition until the mixture has a silky smooth texture.

Add the brandy or liqueur of your choice and mix well until blended.

Butter a springform pan about 28 cm in diameter and sprinkle with flour to prevent the cake from sticking.

Pour the batter into the mold and smooth the surface with a spatula.

Bake for 30 to 40 minutes or until lightly browned and firm to the touch. You can check for doneness by inserting a toothpick or knife. If it is clean, it is done; if it is stained, let it stand for a few more minutes.

Remove the cake from the oven and let it cool on a wire rack.

Carefully unmold the cake and place it on a plate or platter.

To decorate the cake, place a stencil shaped like a St. James cross to decorate the cake and sprinkle powdered sugar on top. Carefully remove the design mold, and you have a Santiago cake ready to enjoy.
Some additional tips or recommendations for preparing for this election include selecting a good quality and finely ground almond. In addition, the cake should not be a manageable size, so it is advisable to use a removable mold of at least 24 cm in diameter.
The torta de Santiago can be eaten alone or with other typical products of Galician cuisines, such as tetilla cheese, albariño, or herb liqueur. These complements enhance the flavor of the cake and make it a complete and satisfying culinary experience. Other options are a scoop of ice cream, which contrasts temperature and texture, or a coffee or infusion, such as black coffee, coffee with milk, black tea, or green tea, for a contrast of bitterness and sweetness.
Advantages
Thanks to the almonds, Santiago cake has many benefits since it is a dessert rich in protein, calcium, iron, and vitamins. In addition, these nuts are a good source of healthy fats that help reduce cholesterol and prevent cardiovascular diseases. Lemon and cinnamon also have antioxidant and digestive properties that promote overall health.  It is a straightforward and delicious gluten-free cake with an intense almond flavor and hints of essence that stand out.
Undoubtedly, Santiago cake is one of the best representatives of Spanish cuisine and a perfect choice to brighten the day with a simple, healthy, homemade dessert. We assure you you will not regret it if you dare to try it.