The Best Ground Pork Burgers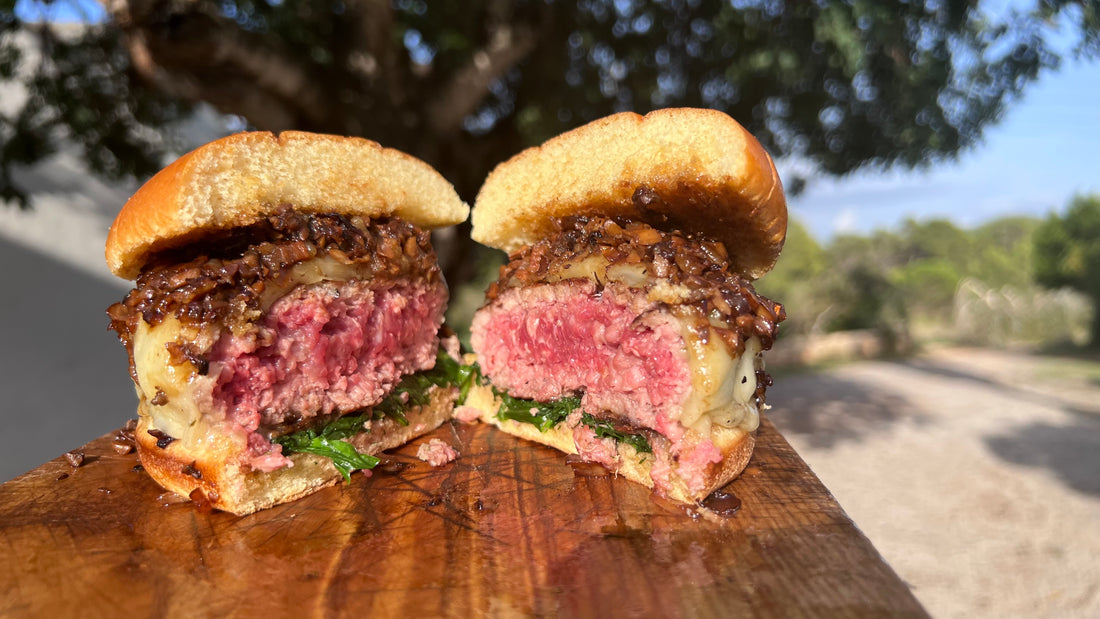 Summer, spring, or fall, burgers are always a win. But good hamburgers can go far beyond the traditional ground beef. Ever tried your hand at pork burgers? These smash-style hamburgers, made with the bold, nutty, and ultra-flavorful Ibérico pork, are a fantastic creative alternative. Learn how to make them here. 
How to Prepare Ground Pork Burgers
A rule of thumb when it come to preparing the best ground pork burgers is to go Ibérico. Iberian pork is super juicy and offers unique flavor and quality to the traditional burger. Here we recommend using pork loin or sirloin, as it's tender, juicy, and perfect for ground pork. Once you choose the Ibérico meat you want, ask your butcher to grind the meat using their meat grinder, or you can grind it at home by pulsing it in the food processor. Just be careful not over-process or the meat can turn into a paste. 
What Meat to Mix with Ground Pork
You don't necessarily need to mix Ibérico pork with another meat. But you can absolutely combine it with any other ground meat you fancy, from classic beef to lamb. However, there really is no other meat that holds a candle to Ibérico pork other than the king of beef: wagyu. Raised with great care and abundantly tender, its flavors, textures, and fat makeup are an ideal combination with Ibérico pork. 
Ground Pork Burger Recipe
Ingredients
1 lb. Ibérico pork loin or sirloin, ground 

1 onion, finely chopped 

Fresh parsley, finely chopped 

4 cloves garlic, minced 

2 eggs

Coarse salt

Freshly ground black pepper

Bread crumbs

A splash of milk 

Pecorino cheese (optional)

Slices of American or cheddar cheese 
Preparation 
Place the meat, onion, and garlic in a bowl. Sprinkle in some fresh parsley, and add the eggs and breadcrumbs. 
Use your hands to mix and incorporate the ingredients. 
Add a splash of milk and season with salt and pepper, along with the Pecorino cheese if using. Mix to combine. 
Form the ground pork mixture into meatballs of equal size. 
Flatten each ball into a burger patty. Use wax paper or parchment paper to separate and stack each burger if needed. 
Place the burgers on a very hot griddle and smash the burger again to flatten. These burgers will be ready in just a few minutes. You can also bake the burgers in the oven on a tray for 15-20 minutes, at 425ºF. 

For the smash burgers, once you've flattened them and flipped them, add the cheese on top and let it melt. For the baked burgers, add a slice of cheese on top 5 minutes before removing them. 
The Best Toppings for a Ground Pork Burger
While any quality bun will work for your ground pork burger, brioche is definitely the winner. Pillowy, buttery, and slightly sweet, it's the perfect contrast to the pork and holds up well to even the juiciest, sauciest burgers. Slice the bun in half and heat it cut-side down on the griddle to get it crunchy and toasty. 
You can add any of your favorite burger sauces to your Ibérico pork burger. We love a mixture of mayo and mustard, or even a homemade barbecue sauce or herby chimichurri does wonders. 
For veggies, pickles, fresh tomato slices, and lettuce are the classic trio. But you can also try out arugula or even caramelized onions.
Cheddar and American are great melty cheeses for burgers, but layer on other cheeses like fresh goat cheese, gorgonzola, or even cream cheese for funkier flavors.
To truly amp up the pork burger, add crispy bacon, sliced chorizo, or even cured Spanish ham.