The Star Products of Spanish Gastronomy: From Ham to Olive Oil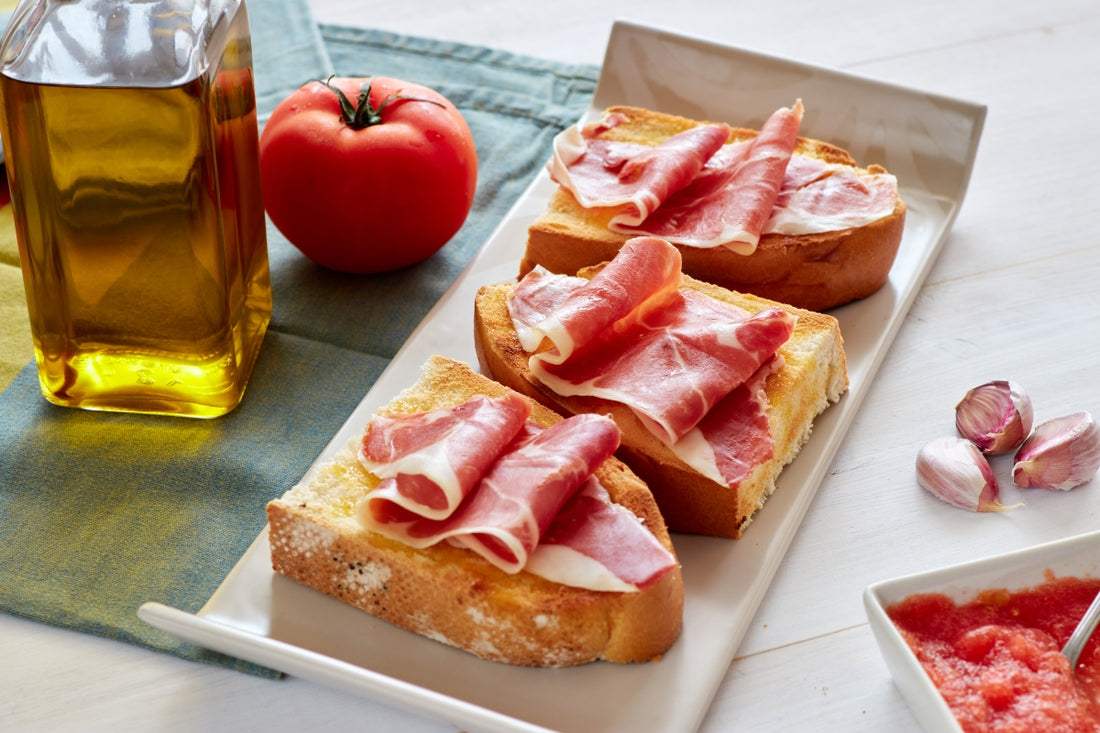 Much is said about how delicious Spanish gastronomy is due to its historical recipes and the diversity of dishes found in the different regions of the country. However, what few recognize is that if it were not for the raw materials that Spain offers, many dishes would be different.
Spain is a privileged land, as it has a great variety of quality products. Fertile land for sowing, a coastline with a great diversity of fish and ample fields for livestock. For that reason, all its dishes stand out in the world gastronomic scene, so much so that many people import products from Spain to enjoy them in the country where they live.
Do you know what these elements are and why they are so exquisite? Here you can learn more about them.
Export quality products
From Spain to the world, these ingredients mark Spanish gastronomy at an international level.
Iberian ham
This is the representative Spanish product par excellence, as it is recognized and valued everywhere as the most valued ham in the international culinary scene. The reason why this product is so coveted outside Spain is because Iberian ham can only be produced in the country.
It all starts with the breeding of the Iberian pigs, which are fed exclusively on grass and acorns. In addition, they have freedom of movement, which allows for optimal fat infiltration.
Without the right climatic conditions, the right type of pig, quality food for it and the routine of free movement, it is impossible to obtain the Iberian ham we know. This ham is usually eaten on bread, together with tomatoes and olive oil. However, it can be eaten alone, in salads and even with fruit.
Extra virgin olive oil
Many call it liquid gold, not only because of how valuable it is in nutritional terms, but also because of how highly valued it is abroad. Spain is the world's leading producer of olive oil, responsible for almost half of the world's production. Moreover, in the top 10 of the world's best olive oils, there are 9 oils of Spanish origin. This is how famous this product is.
This food has many benefits, such as providing a longer life expectancy and preventing dementia. But it is not only for this that it is famous, but also because it is delicious and extremely versatile. 
Olive oil can be used to make many preparations, dress salads and breads, and even to make preserves.
Wines
Spain has one of the largest areas of vineyards in the world, so many wines are exported annually. Thanks to this the drink is well known internationally, but this is not only because of its wide presence, but also because of the quality of Spanish wine. 
Not only are they incredible for enjoying a drink with friends and family, but they are also perfect for cooking, as their flavor and aroma are exceptional.
Cheeses
Spain's cheese culture is very famous and how could it not be, when there is a wide variety of cheeses to satisfy all tastes. Unlike many countries where the most consumed cheese comes from cows, Spain also produces large quantities of goat cheese, sheep cheese, buffalo cheese and even blends.
Manchego cheese, besides being the most famous cheese in Spain, is also considered one of the best cheeses in the world. And although La Mancha stands out in the production of cheese, all Spanish communities have some typical cheese that identifies them.
This food is quite practical and versatile, as it can be eaten fresh, cooked and can be used in the preparation of different meals. In Spain, it is usually enjoyed with a glass of wine and in combination with Iberian ham. Giving one of the most delicious pairings.
Canned fish and seafood
Spain has 3 main coasts: the Mediterranean coast, the Cantabrian coast and the Atlantic coast. This, in addition to providing great vacation destinations, gives the country a great diversity of seafood products; many of which cannot be found in other nations. 
A good way to export these products and enhance their flavor is by canning them using olive oil. Anchovies, tuna, sardines... All these foods have their canned version, which are consumed as snacks and as part of different preparations.
As you can see, these products are the best known outside Spain and some of the most used and consumed within the country. A good way to combine them all is on a charcuterie board accompanied by a delicious glass of wine. With every bite and sip you will be able to taste the Spanish gastronomic culture.