Veal cheeks with Pedro Ximénez sauce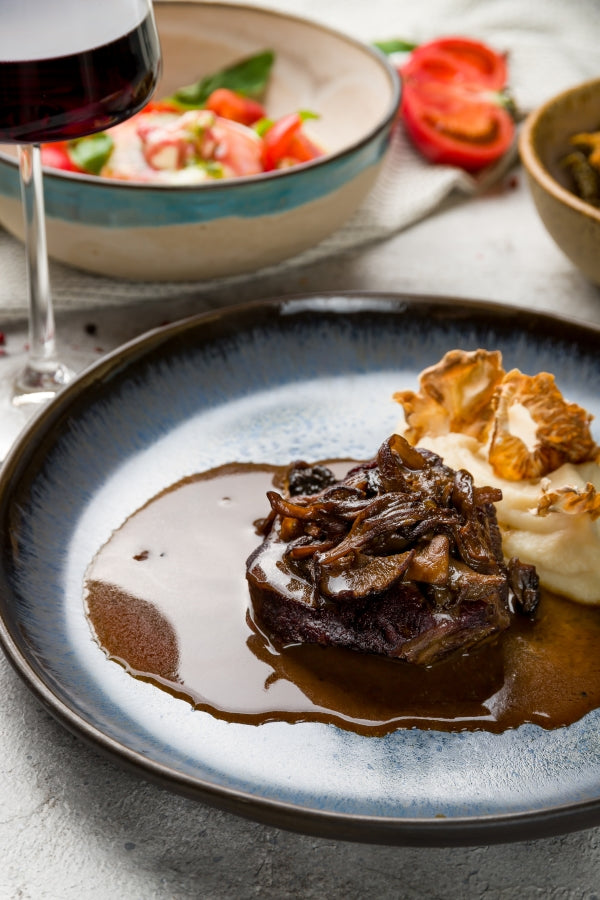 Veal cheeks, like pork cheeks, were a bit known meat until not so long ago. However, today they have gone from being a product of refuse to becoming one of the star dishes on the menus of many restaurants, especially those that seek to innovate and surprise diners with their creations.
This meat corresponds to the chewing muscles of the animal, also called cheeks. It is a very fibrous piece with a gelatinous texture, ideal for stews and casseroles.
On the other hand, Pedro Ximénez wine is one of the most used in Spanish gastronomy. It is obtained from a type of white grape of the same name. It is grown in dry and hot climates, which gives it a high alcohol content. It is a sweet, dark broth that combines perfectly with meat stews.
Properties of the veal cheeks
The cheeks are characterized as lean meat. Its low-fat content makes it appropriate for people with high cholesterol and those following a slimming diet.
It is a source of energy, protein, iron, and B vitamins. At the same time, it is rich in carnitine. This compound helps the body to metabolize fats, and linoleic acid, whose antioxidant power prevents premature aging and intervenes in the recovery of tissues.
How to prepare veal cheeks in Pedro Ximénez sauce
In the recipe we propose, the veal cheeks are accompanied by a sauce created with Pedro Ximénez wine, which adds sweetness and a caramelized touch to the meat. Although if you consider that it is too sweet for your palate, you can substitute it with another red wine.
Ingredients:
4 veal cheeks

1/2 glass of Pedro Ximénez

1 glass of red wine

2 red onions

2 cloves of garlic

1 leek

1 carrot

4 mushrooms

4 potatoes

1 teaspoon of sweet paprika

2 tablespoons olive oil

Meat broth or water

Salt and pepper
Elaboration: 
Clean the cheeks, season with salt and pepper, and fry them in the pan with olive oil. When they are golden brown, remove them and set them aside.

Peel and chop all the vegetables. In the same casserole, brown the garlic with the onions. Then add the leeks, carrots, and mushrooms in turn.

Add the liqueurs and let them evaporate completely until they do not smell alcohol.

Add the cheeks and cover them with water or stock.

Cook over low heat for about 3 hours until the cheeks are entirely cooked. Add more water or stock if necessary.

When about an hour of preparation time is left, cook the washed and unpeeled potatoes until they are thoroughly cooked. Peel and mash with a fork. Add the butter and a little salt and mix everything until the mashed potatoes are homogeneous.

Remove the cheeks and puree the sauce. Pass it through a chinois strainer and return it to the heat and the cheeks.

Let it boil for a couple of minutes and serve with mashed potatoes.
Tips for preparing the recipe
Before cooking the cheeks, clean them well of any bones and skins they may have. You will see that on one of these sides, they have a skin or webbing. It is unnecessary, but it is up to each person to decide whether to remove it.
Due to the sweetness of the wine, test several times during cooking the salt level to correct it if necessary.
This recipe will take about 3 hours to cook in a regular pot. Since being a very fibrous meat, it requires long cooking over low heat to tenderize it. But if you are short of time, you can prepare it in a fast cooker. It will be ready in about an hour.
In addition to the one proposed in the recipe, you can follow different cooking techniques for the cheeks:
Once you have made the sofrito of vegetables, grind it. Then put the cheeks in the same container with the vegetables and some more broth. Let it cook until the meat is tender.

If you prefer to cook the cheeks in the oven, put water in a refractory tray, place the meat and cover it with aluminum foil. Cook for approximately 5 hours at 150 degrees. Ensure the tray does not run out of water, and add as many glasses as necessary during the roasting process. Afterward, when the meat is tender, remove it from the tray, mash the sauce left on the bottom, and serve.
Baked potatoes or grilled vegetables can be a good garnish for this recipe.