Ibérico Ham and Cheese Sliders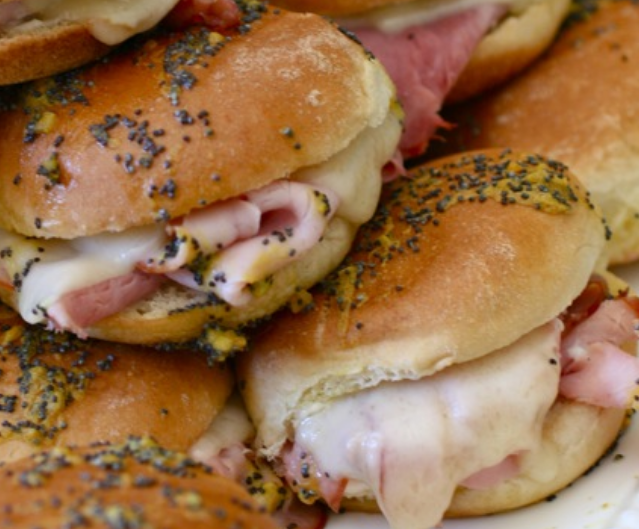 One of the easiest dishes to make, and perfect for any occasion, be it parties, get-togethers, or effortless dinners, are ham and cheese sliders. This popular dish, which originates in Latin America, specifically in Colombia, is nothing more than sweet bread buns with ham, cheese, and few extra flavorful toppings. Here, we're taking it up a notch with slices of Ibérico Shoulder Ham. 
Recipe for Ibérico Ham and Cheese Sliders 
To really nail these sliders, you have to use the right kind of ingredients. For the bread, sweet Hawaiian rolls are used in Latin America. They're soft and pillowy on the inside and crisp up nicely in the oven. Make sure you use quality Swiss cheese, as well as quality ham, like Jamón Ibérico or Ibérico Shoulder Ham.
Ingredients for Ibérico Ham and Cheese Sliders 
Cooking spray

1 package of sweet buns, like Hawaiian rolls 

Swiss cheese, grated 

1/2 cup unsalted butter, room temperature 

1 Tablespoon Dijon mustard

1 Tablespoon poppy seeds

2 teaspoons Worcestershire sauce

2 teaspoons dried onion

Coarse salt

Freshly ground black pepper
Preparation for Ibérico Ham and Cheese Sliders
Preheat the oven to 350ºF.
Use a baking sheet and cover it with aluminum foil. Spray cooking spray over the top.
Cut the buns in half using a serrated knife, keeping the two halves together. 
Place a layer of ham, then cheese, then ham again, on the bottom piece of bread and cover with the other half of the roll. 
Place some butter in a microwave-safe bowl and heat until the butter melts.
Add the mustard, poppy seeds, Worcestershire sauce, and dried onion to the melted butter. Use the whisk to whisk the ingredients to form a uniform mixture—season to taste with salt and pepper.
Place the sliders on the baking sheet, side by side.
Drizzle the rolls with the butter mixture. You can use a pastry brush so that all the rolls are perfectly well coated. 
Cover the tray with aluminum foil and let the the sliders rest at room temperature for at least 5 to 10 minutes.
Place the tray in the oven and bake until the cheese is melted. This may take about 15-20 minutes. Remove the foil and continue baking, until the top is golden brown and a little bit crispy, about 5 minutes. 
Remove the sliders from the oven and use kitchen tongs to serve. ¡Buen provecho! 
Customizing Ham and Cheese Sliders 
Ham and cheese sliders are usually made with ham, but you can prepare them with your favorite ingredients. Add in extra ham or use deli ham to bulk it up. You could add in sliced turkey or even sausage or chorizo for even more flavor. 

As for the cheese, although Swiss cheese is typically used, look for one that can melt quickly. Cheddar, fontina, brie, or even a lightly aged Spanish Manchego cheese is perfect for this recipe.