How to Grill Flank Steak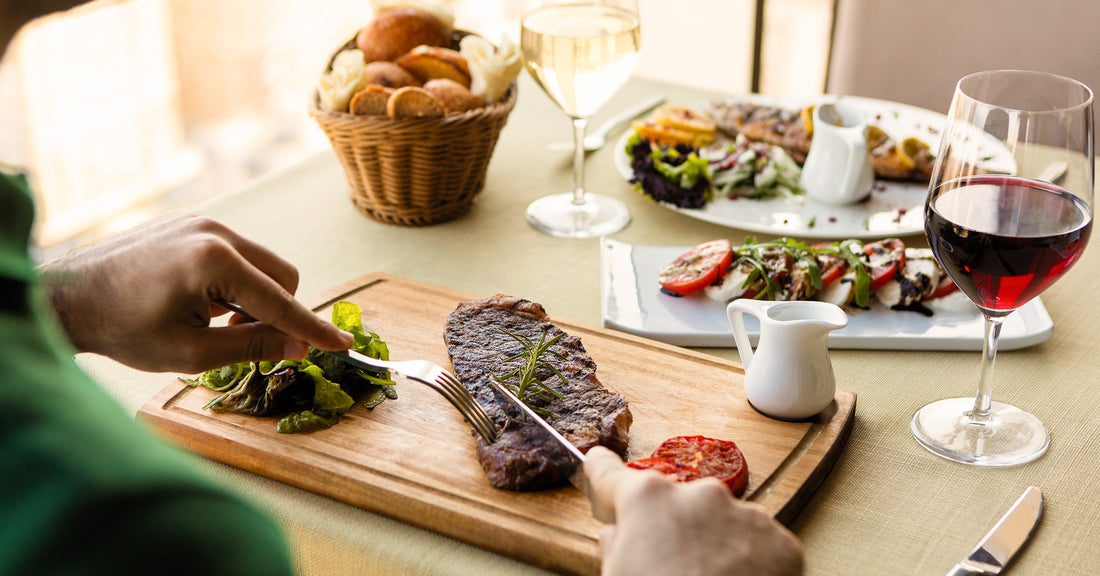 Flank steak is a highly prized cut that fares tremendously on the grill. It takes well to juicy marinades and is ideal for recipes like fajitas, or just a peppery filet with grilled veggies or a cheesy sauce. And with the chargrilled flavor and a nice crisp, it's even more delicious. 
What is flank steak?
Flank steak, which is known in some countries as entraña, is a cut characterized by its long, flat, and thin shape. It's a boneless cut with lots of flavor and is connected to the diaphragm area of the animal. When you think of flank steak, you're probably thinking beef. But pork flank steak not only exists, but is an incredibly delicious cut that can be used interchangeably with any other beef flank steak recipe. 
Flank steak is also known as being more fibrous than other cuts, which makes it a bit tougher. Luckily, it's easy to tenderize the meat if prepared and cooked properly. Removing the outer membrane, marinating the cut for a few hours, and a quickly searing over high heat are a few ways to tenderize the meat to serious perfection. 
How to Grill Flank Steak
Flank steak is prepared in a variety of ways throughout the world. In Latin America, where the cut is extremely popular, you'll find it used things like smoky Argentinian churrascos or in juicy Mexican fajitas. The cut is also ideal for making Cornish pastries in the UK, and is also found in Spanish cuisine...especially when it comes to Ibérico pork flank steak. Here are a few tips--no matter what sort of recipe you're using--to make sure your flank steak shines: 
Remove the outer membrane covering the flank steak. Start by cutting it with a knife and using your hands to carefully (but with force) pull off the membrane. If you have a local butcher you trust, you can also ask them to do this for you. 
To improve tenderness and enhance flavor, we highly recommend marinating flank steak overnight in some mixture of acid, oil, salt, and herbs or spices. This is where you can get creative and put your own twist on things. 
Grilled Flank Steak Recipe
Here, we're grilling Ibérico Flank Steak with a lemony herb marinade. But feel free to swap out the herbs with your favorites, or even add in a little soy sauce or Worcestershire sauce for a saltier umami note. Serve as is, or spoon a little chimichurri sauce on top to round it out. 
Keep in mind that you need to marinate the meat overnight (or early in the morning for dinnertime grill out), so plan accordingly. 
Ingredients
Coarse salt

Freshly ground black pepper

Extra-virgin olive oil

Juice from half a lemon 

Handful of fresh herbs, chopped (ex: basil, parsley, rosemary) 
Preparation
Trim the flank steaks. Use a knife to remove any thin membranes around the meat. Then cut the steaks into individual portions of equal size. (You can also ask your local butcher to do this part for you)

Mix a glug of olive oil, lemon juice, salt, pepper, and herbs in a large bowl or baking dish. Place the steaks in the bowl and mix up the meat and marinade with your hands, evenly distributing it throughout. 

Cover the bowl or dish with plastic wrap and place in fridge overnight. 

Two hours before you're ready to cook, remove the meat from the fridge and allow it to come up to room temperature. This helps the meat cook evenly. 

Preheat the grill with the lid on and rub the grates with oil or spray on a cooking spray. 

Remove the flank steaks from the marinade and p

lace the on the grill over direct heat (high or medium-high) and season with a little more salt and pepper.
Brush some of the remaining marinade over the meat and let cook for 2.5 to 3 minutes on each side
Remove from the grill and let rest for a few minutes before serving. ¡Buen provecho!