Abuela-Style Hake With Basque Salsa Verde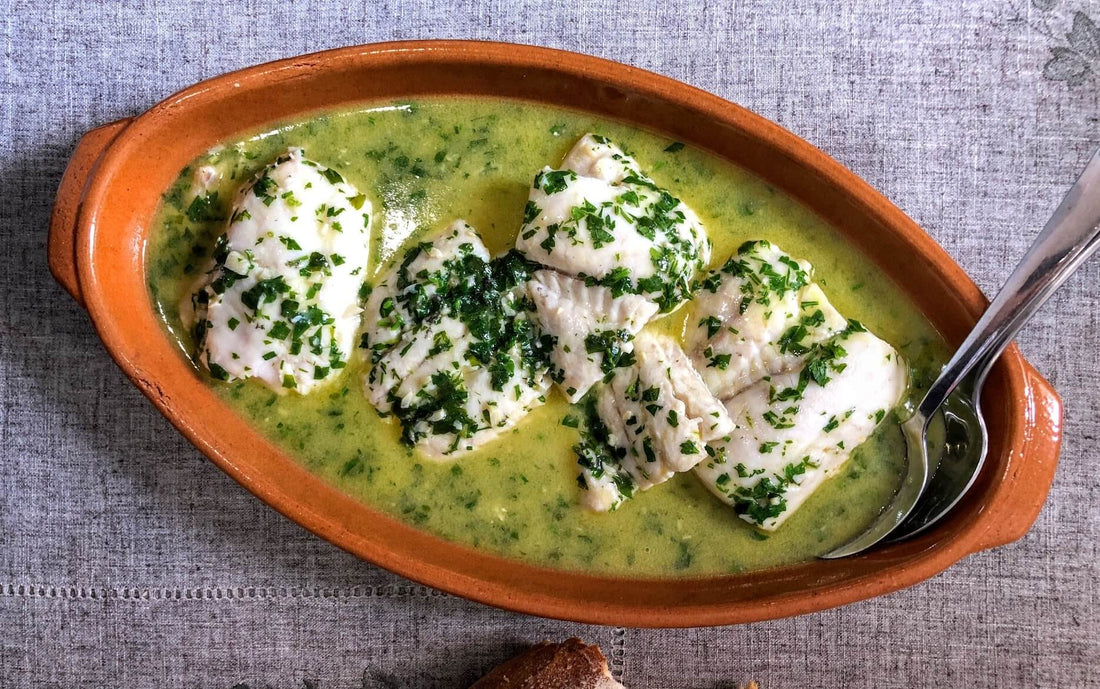 Serves 4
There are as many recipes for hake with salsa verde as there are abuelas in Spain, but the most famous version hails from the Basque Country, on the French border, where cooks simmer ultra-fresh hake fillets to cloudlike perfection in a garlicky parsley-wine sauce. The dish is a crash course in the philosophy of Basque home cooking—few ingredients, minimal fuss, and a final product whose sum tastes like more than its parts. Serve hake in salsa verde with a zippy Spanish white, such as Basque txakoli, and plenty of crusty bread for soaking up the juices.
Ingredients
2 tsp. cornstarch
28 oz. Campo Grande European hake, skin on, thawed and cut into 4 even portions
½ cup extra-virgin olive oil
3 garlic cloves, finely chopped
½ cup dry white wine
1 teaspoon kosher salt, plus more to taste
1 cup fish stock, preferably homemade, or bottled clam juice
¼ cup finely chopped parsley
Instructions
In a small bowl, whisk the cornstarch with 1 tablespoon of warm water until the cornstarch is dissolved. Set aside.
To a large pan, add the olive oil and garlic and cook over medium heat until the garlic has softened (do not brown), about 4 minutes. Stir in the wine and salt, turn the heat to medium-high, and cook for 1 minute. Whisk in the fish stock and the cornstarch mixture, bring to a simmer, then gently lower the hake fillets, skin side up, into the liquid.
Cook for 3 minutes, then carefully flip, and cook until the flesh is pearly white and the fish is nearly cooked through, 4 minutes more.
Sprinkle in the parsley and remove from the heat. Grip the handle of the pan with both hands and swirl the pan in slow, even motions to thicken the sauce. Season with salt to taste and serve immediately.
Playing around
Gussy this dish up with one 8-oz. package of Campo Grande coquinas, which can be added (rinse in a colander before using) after step 2. They add a sweet, briny richness to the sauce. Green peas and finely chopped asparagus may also be added in step 3 for a fresh, primavera-y variation. Boiled potatoes are a traditional accompaniment; you can also ladle the hake and its sauce over fettuccine or boiled white rice.

Ensure this recipe comes out perfectly every time by using Campo Grande wild-caught hake, available for purchase here!