The Best Foods from Spain, Finally at Your Fingertips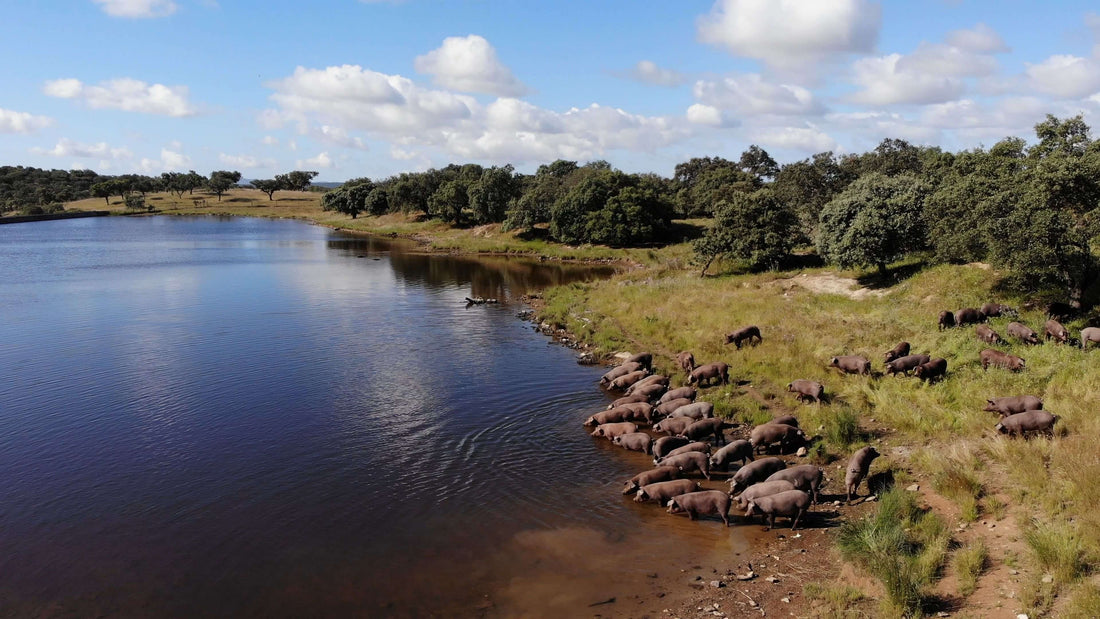 Inside our quest to bring the finest pork, beef, fish, and more to the U.S.
Chances are, you know where to find incredible Italian olive oil, British cheddar, and French foie gras, but what about Spain's gourmet wonders? The Spanish foods you crave (or have always wanted to try), like top-shelf tinned fish, chorizo redolent of smoky pimentón, and paper-thin ibérico ham that melts on your tongue, are often nowhere to be found.
And you know what? That never sat well with us as Spanish-Americans. Our friends and family in the U.S. were missing out on some of the world's finest delicacies. So we made it our mission to bring the best of Spain to the States. Enter Campo Grande, a meticulously curated culinary resource for the best Spanish (and Spanish-style) tinned seafood, fresh fish, aged beef, and charcuterie.
Campo Grande Products
Ibérico Pork
When we couldn't find fresh American pork that compared to the nutty, umami-packed cerdo ibérico of Spain, we linked up with farmers and butchers back home and started importing it. Now you don't have to pay top dollar at restaurants to experience the magic of Ibérico's "cortes nobles" (noble cuts). You can add them to your week's protein rotation. Same goes for our imported jamón ibérico, slow-cured to marbled perfection over five long years (most prosciutto ages one year, comparatively). Shop Campo Grande Ibérico here.
Vaca Vieja
What would it take, we wondered, to bring Spanish-stylevaca vieja(mature beef) to America? Those Flinstonian, ultra-beefy steaks that Basques famously devour in cider houses were nowhere to be found in the U.S., so we linked up with a cooperative specializing in upcycled mature cows that are 100% grass-fed and certified humane. This hand-selected beef is so intensely flavored that all it needs is a hot skillet and a flick of crunchy salt to shine. Shop Campo Grande Vaca Vieja here.     
Fresh European Fish
European fish has a flavor all its own, and it's a key ingredient in many traditional recipes. We've tracked down the exact hake you need to make an abuela-approved merluza en salsa verde and the thick, juicy fillets of salt cod required for authentic bacalao al pil pil, plus marvelously meaty monkfish and delicate Spanish sea bass. And listen, we're as obsessed with sustainability as you are. Rest assured that all of our fresh fish is traceable and line-caught on EU-certified vessels. Shop Campo Grande wild fish here.
Meet Campo Grande's Founder
Kurt Oriol
Campo Grande's passion for Spanish food is literally in our blood. Kurt Oriol, our founder, comes from a family with deep roots in the ibérico tradition. He grew up hearing his grandmother's stories about the matanza, the annual celebration across rural Spain when townsfolk come together to stuff chorizo and hang hams for the winter.
In 2015, Oriol co-founded Iberian Pastures, one of the first Iberian pig farms in the U.S., which airlifted a herd of black-hoofed pigs from Extremadura to Georgia. Our Campo Grande chorizo and sobrasada (spreadable Majorcan sausage) are proudly made from regeneratively farmed all-American ibérico.
Kurt's hybrid upbringing between Spain and the U.S. taught him the uniqueness of Spanish food culture. In Spain there's a palpable conviviality around food—tapas plunk down on tables to be gobbled by all, wine is sloshed into glasses without a whiff of pretentiousness, and there's always an unhurriedsobremesa—Spain's term for lingering and chatting around table long after you've finished your meal.
We hope to offer a taste of that philosophy—that quintessential Spanishalegría—through our hand-picked products. We want you to slow down and enjoy the moment as well as the food.
Our Mission: Sustainability, Health, and Amazing Food

At Campo Grande we care about three main things: nutrition, sustainability, and food that will knock your socks off. Our products tick these three boxes, whether you're cracking open a can of escabeche-packed mussels or grilling a secreto ibérico steak. It's no coincidence that Spain has one of the highest life expectancies on earth, a testament to a diet revolving around fish, fruit, vegetables, and the occasional helping of (non-industrial) beef or pork.
Science also tells us that ibérico pork is healthier than the supermarket stuff, thanks to an abundance of unsaturated oleic fat. That's the same cholesterol-reducing fat found in olive oil.
You can feel good about buying our products. Beyond winning over your tastebuds with foods that frankly outshine much of what you can buy in Spain, we believe our wares reflect the current moment, which demands a transition to sustainable, regenerative farming and to healthier eating.
Most importantly, each Campo Grande product has a face behind it and a story to tell. We invite you to take a deep dive into Spanish food culture with us. As we say in Spanish,El buen alimento cría entendimiento: "Good food brings about understanding."