What to Do With Your Ibérico Pork Box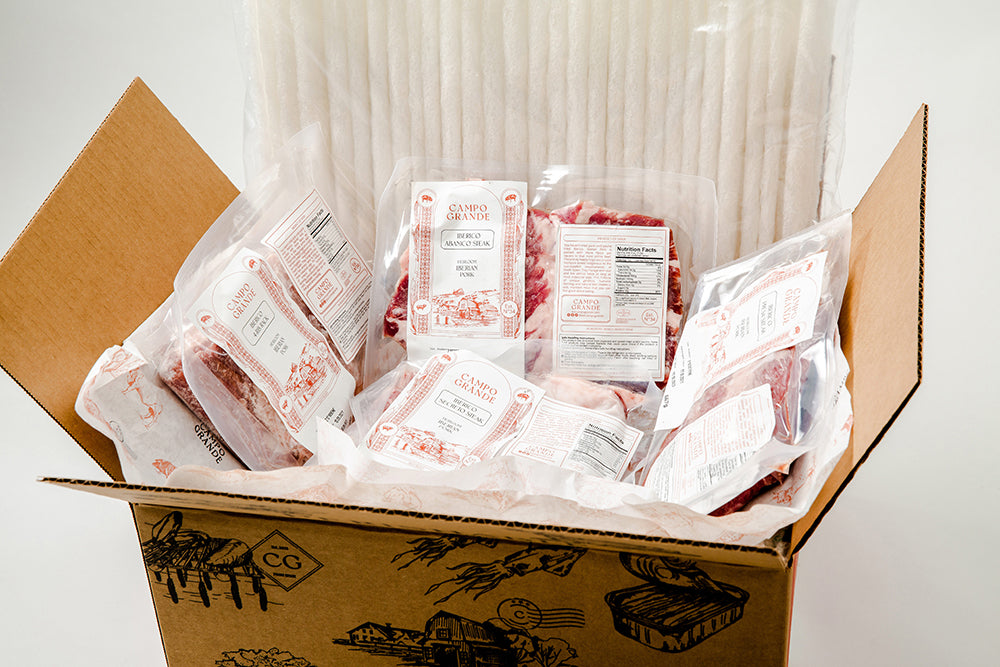 Ready to experience peak pork but not sure where to start with your Ibérico box? We've got you covered with this quick, info-packed guide to cooking, storing, and amping up the flavor of each Campo Grande Ibérico cut. 
By now you know what makes Ibérico pork special: its unparalleled meaty flavor, native habitat in the oak-shaded dehesas of southern Spain, mesmerizingly marbled intramuscular fat—the list goes on. But unless you're a Spanish chef, chances are you're new to cooking Ibérico. To make the most of your Ibérico box, let's take it step by step. 
Step 1: Unbox!

Open the box and discard the compostable insulation by throwing it away or dissolving it in water.

Inside you'll find the frozen pork. Each cut is individually packaged in durable vacuum-sealed plastic. Remove the pork from the box and, unless you plan on cooking it straight away, immediately put it in the freezer. This way you can thaw each cut separately every time you're in the mood for some amazing pork.  

To thaw the meat quickly, submerge the vacuum-sealed pack(s) in a large pot of water and refrigerate for a few hours. 
Alternatively, buy yourself more time by thawing the meat (in the plastic) on a plate in the refrigerator for 1–2 days. 
Campo Grande Ibérico will keep for over a year in the freezer.      
Step 2: Choose Your Fighter 


Rib Rack – With its crown of frenched bones, this cut makes a dramatic dinner-party centerpiece, whether lacquered in

rosemary glaze

or carved into double-thick bone-in chops. Or dress it down—salt, pepper, oven—for a no-fuss weeknight roast.

Abanico – Like a boneless short rib, but thinner for quick cooking, abanico is perfect for grilling, searing, and

stir-frying

. It's veined with intramuscular fat and plays well with pungent flavors like garlic and citrus.  

Presa – We love roasting this versatile, flavorful cut as well as tossing it into stews and

curries

. Forget basting: Presa is so well-marbled that it needs no help to stay moist. 

Pluma – Pluma is a small triangular cut above the shoulder with ultra-tender meat, which makes it ideally suited to weeknights—a flash in the pan, and dinner is served!
Secreto – Meet the best-kept "secret" of Spanish butchers, a boneless steak-like cut bursting with meaty flavor that's juicier than pork belly. Try it on the grill or marinated and seared in a hot skillet. 
Step 3: Marinate (...or Skip It!)
Unlike supermarket pork, which benefits greatly from brining or marinating, Ibérico is juicy and flavorful as is. Sure, a bath in aromatic sauces and spices will add pizzazz to Ibérico—if you're a marinade lover, soak away!—but this step is by no means necessary. 
Step 4: Crank the Heat 
Ibérico's best friend is a screaming-hot pan or oven. With enough heat, all that gorgeous marbling makes its edges crisp up like bacon while keeping the interior tender and juicy like a good steak.
For grilling, you may experience some unwanted flare ups as the fat drips onto the hot flaming coals. To prevent flare ups, cook the Ibérico low and slow over ambers instead of over direct heat. The fat will gently render and you'll still get nice crispy edges without the fire hazard.
Just don't cook Ibérico too long—to find out why, check out these 6 Tips for Cooking With Ibérico Pork.


Step 5: Zhuzh It Up
 
Cooked Ibérico pork needs only a sprinkling of crunchy salt to shine (that's how most Spaniards roll), but feel free to experiment with your favorite sauces and spice blends. When carving whole cuts, notice which way the muscle fibers go, then position your knife perpendicular to them and make clean diagonal slices. You can gussy things up by fanning out the slices and pouring any accumulated juices over the top.
Ready to get cooking? Check out the recipes page for meal ideas and culinary inspo!