Wine Pairings: How to Cook Ibérico with Wine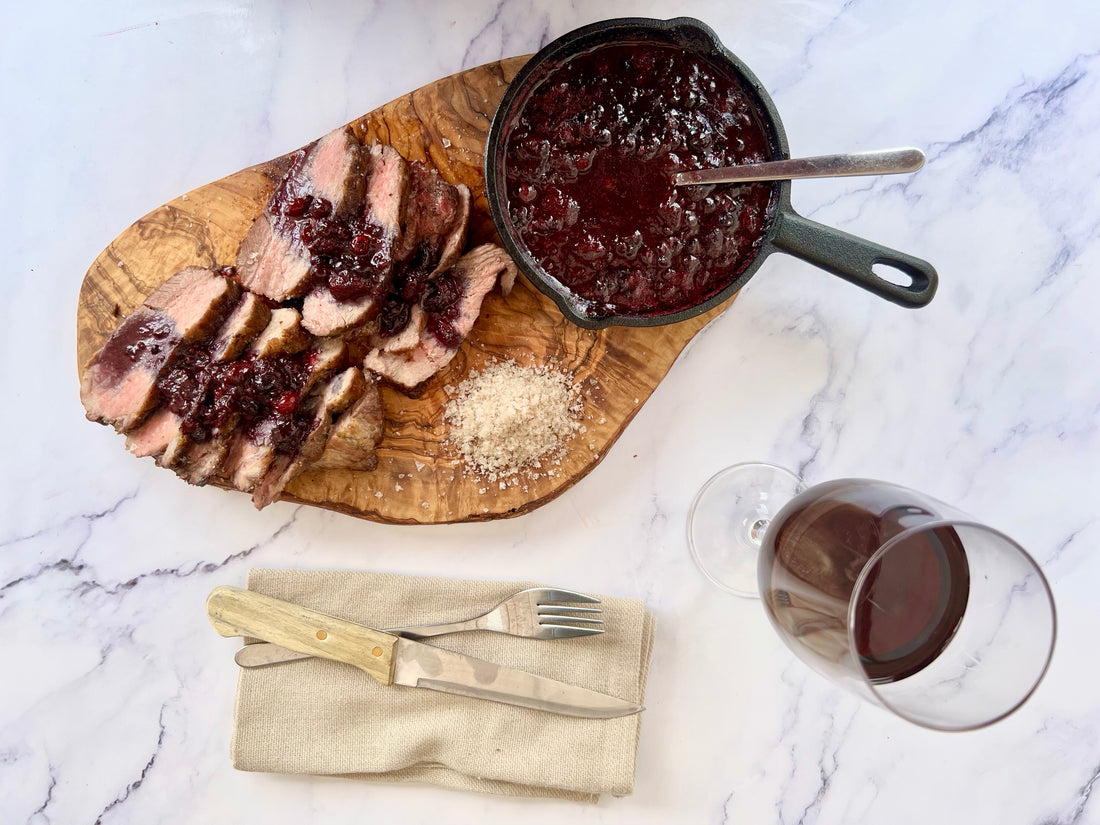 When it comes to pairing your cuts of fresh Ibérico pork, we always stick to one principle: Spanish wines or bust. That's not to say there aren't a slew of other wines that pair beautifully with those nutty fats and earthy pork flavors, but there's nothing like celebrating the true terroir of Iberian pigs and the Spanish dehesa than with regional bottles. 
Most Ibérico cuts on their own (with a little salt and pepper) tend to pair beautifully with bold and aged reds from Rioja or the Ribera del Duero region of Spain, like those Reservas or Gran Reservas that have spent time aging in the bottle and the barrel. But honestly, sky's the limit with Ibérico. Even those young reds like Crianzas work beautifully. And if your local wine shop or favorite online wine store has a good spread of Spanish wines, look for all sorts of red varietals from other areas of Spain like El Bierzo or even the southern regions.
Really the ideal Ibérico pairing depends more on how you're serving each cut— which sides, sauces, and seasonings you're after. Read on for some of our favorite Ibérico recipes and wine pairings, and find out how you can cook Ibérico with wine. You may see a few surprises. Ibérico is a kind of pork that works with oh so many styles.  
4 Rib Rack 
The Recipe: Grilled 4 Rib Rack with Aioli & Asparagus 
These ribs get marinated overnight in a garlicky herb sauce for ultimate tenderness, are grilled to perfection, and served with asparagus and a thyme-flecked aioli. 
The Wine: 2015 La Rioja Alta Vina Ardanza Reserva 
This powerful wine is a blend of tempranillo and garnacha and was aged for over 30 months in American oak. Its high tannins and characteristic leathery spiced notes, coupled with its long finish, stand up beautifully to a rich rack of grilled Ibérico ribs.
Secreto
The Recipe: Huevos Rotos with Secreto Ibérico 
Huevos rotos, or "broken eggs," is a popular dish in Spain cooked in restaurants and homes. The goal is to leave the egg a bit runny so it creates a thick sauce to coat the potatoes and pork. Really any cut of Ibérico works with huevos rotos, but we love any chance we can to sear up Secreto. 
The Wine: 2018 Izadi Rioja Reserva
A medium-bodied wine with ripe plum and blueberry aromas like this Rioja Reserva is a gorgeous pairing for huevos rotos. This dynamic bottle is fresh and lively and works perfectly with the thick texture of the eggy sauce and bold flavors of that crispy Ibérico Secreto fat. 
Coppa 
The Recipe: Coppa Shiitake Ramen
This umami-packed ramen gets the Ibérico treatment with thin slices of marinated Coppa and a whole slew of veggies and earthy mushrooms.
The Wine: 2021 Aizpurua Txacoli de Getaria Bianco 
Txacoli is a white, slightly effervescent wine from the Basque Country region of Spain. This traditional Txacoli is fermented at low temperatures using only naturally occurring yeasts, making it zippy and tart. The barely bubbled wine offers a clean and refreshing complement to the fullness of a pork-based ramen broth, and a little acidity acts as a nice counterpoint to the broth's rich texture 
Pluma
The Recipe: Pluma Ibérica with Grilled Butternut Squash Fondue 
You've never had fondue until you've dipped Pluma Ibérica (directly over the coals of your backyard grill) into a gruyere and sweet butternut squash mess of deliciousness. Add a little drizzle of chimichurri for an acidic punch. 
The Wine: 2020 Casa Castillo Las Gravas
This bottle from the cool slopes of the Sierra de Molar in the region of Murcia is a luscious blend of monastrell and garnacha grapes. The minerality, smoky blackberry and floral notes, and the elegant tannins, are a welcomed companion to the grilled Pluma and squash. 
Presa 
The Recipe: Presa with Spicy Avo Cream & Crispy Broccoli 
Go green with your Presa and sauté broccoli in those flavorful Ibérico juices. Serve with a spicy and refreshing avocado cream to keep the colors bright and the flavors light. 
The Wine: 2019 Gomez Cruzado Rioja Blanco
Red Riojas may get all the fame, but white Riojas like this blend of viura and white garnacha deserve their own chance in the spotlight. Five months in French oak on the lees offers a level of robustness that holds its own with the Presa, and the floral and citrus notes are a welcomed refreshment to the spicy avocado cream. 
St. Louis Ribs
The Recipe: St. Louis Ribs Alfredo
Who needs pasta when you can have Ibérico ribs alfredo style? These St. Louis Ribs get grilled or seared on the stove, and tossed into the oven to cook low and slow until they melt right off the bone. Bathe them in a decadent cheesy alfredo sauce and brighten them up with a sprinkling of chives. 
The Wine: 2011 Bodegas Hermanos Pérez Pascuas Ribera Del Duero Gran Reserva Viña Pedrosa 
Decadent alfredo needs a bold, special wine to match, and 100% tempranillo is the answer. Think notes of roasted fig, cherry, and leather aged over 24 months in oak barrels to accompany that silky cheese sauce and tender pork. 
Loin Roast
The Recipe: Chorizo-Stuffed Loin Roast with Sweet Potato Mash
Stuff an Ibérico Loin Roast with smoky Spanish chorizo and fragrant garlic scapes, and grill it to tender perfection. While you're at it, slow roast whole sweet potatoes in the coals for a full balanced meal of sweet, savory, and char-grilled flavors. 
The Wine: Lustau Dry Amontillado Los Arcos Solera Sherry Reserva
This isn't your grandma's sticky sweet dessert wine. Amontillado is one of the many styles of dry sherry from southern Spain, with characteristic nutty and dried fruit aromas. The sherry works perfectly with these quintessential Spanish Ibérico pork and chorizo flavors. It's a highly unique pairing worth your while, especially if you're looking to step out of the box from traditional table wines. 
Abanico 
The Recipe: Abanico with Provolone & Cherry Tomatoes
This insanely simple recipe is all about highlighting those natural earthy and nutty flavors of Ibérico Abanico. Provolone gets seared crispy in the pan—a common preparation in Spain—and topped with juicy bursts of cherry tomatoes to finish. 
The Wine: 2017 Bodegas Y Viñedos Merayo Aquiana Mencia 
This beautifully complex bottle of mencía grapes from the Bierzo region of Spain has a creamy and smoky oak character, with black fruits, tobacco, and even floral notes. A glass of this velvety red wine is a magnificent pairing for those clean but complex flavors of Ibérico Abanico pork.